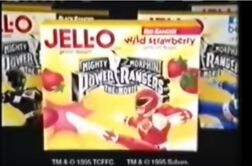 Mighty Morphin' Power Rangers: The Movie Jell-O was a promotional Jell-O product which was distributed when the Power Rangers movie was released back on Friday, June 30, 1995. The flavors included Red Ranger Wild Strawberry, Yellow Ranger Lemon, Pink Ranger Watermelon, Black Ranger Blackberry, Blue Ranger Blue Raspberry and White Ranger Grape Soda. They came with movie trading cards inside the packaging.
In addition to the specially marked packages of Jell-O, the Kraft company gave away free Jell-O Jiggler molds with the purchase of Jell-O that could shape the Jell-O into Power Rangers, the Ninja FalconMegazord, a Ninja Ranger or Ivan Ooze for example.
Community content is available under
CC-BY-SA
unless otherwise noted.