Spider-Man: No Way Home Trailer Dropped - The Loop
Play Sound
"Pink Ranger, ready!"
―Pink Samurai Ranger's Roll Call
Mia Watanabe is Samurai Ranger Sky, the Pink Samurai Ranger in Power Rangers Samurai. She is described as the "big sister" of the team, and is given the element of Sky to battle evil.
Personality
Mia is the mature, intelligent, beautiful, feminine, optimistic warrior to the Power Rangers. Due to her caring nature, Mia is also known as the big sister of her team. She is known for her kindness and generosity and finds joy in making others feel better and helping them out. Mia is so eager to give that sometimes her own needs get overlooked. She hoped that someday she would find her "Prince Charming", possibly hinting that it was Kevin or Jayden.
While Mia is the more sensitive out of her teammates, she is anything but a damsel-in-distress. Mia isn't your average female samurai, or an average samurai in general. When it comes to kicking monster butt and saving the world, there really is almost no one more suited for the job than her.
She considers herself to be a great cook, but none of the other Rangers agree, save for Lauren, who adores her cooking. One thing they can agree on is that Mia is a crucial part of their monster-fighting team. She is also very compassionate, showing sympathy to Dayu after seeing her past misfortune and even asking if she couldn't return to her past self. However, she can be unforgiving towards those who hurt her friends.
Biography
When Mia was young, she used to play with her brother Terry by playing music. At some point after that, Mia began her training as a Samurai who would later become a Power Ranger.
Mia first appeared in Origins, where she joins the Samurai Rangers in their first battle to save the world.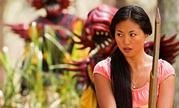 She attempts to help Kevin out in "Deal With a Nighlok", when a kid makes a deal with a Nighlok. After they find out what it was, she and Kevin attacked the Nighlok, and they manage to win when the other Samurai Rangers arrive.
In the episode "Forest for the Trees", Ji gives her the Beetle Disk. Mike becomes jealous that she got the Disk and not him. Mia later gives it to Mike, saying "he'll make better use of the Disk then she can".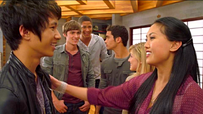 Later in "He Ain't Heavy Metal, He's My Brother" her brother Terry arrives in town and she ends up singing with him and Antonio. This episode also marks her first use of the Black Box and Super Samurai Mode.
She later helps the team form the Gigazord.

TV STORY-Kevin's Choice
Later she uses the "Power of the Ancestors" to be the second Ranger to use the Shogun Mode Battlizer after Jayden.

TV STORY-Runaway Spike

Super Megaforce
Mia alongside Antonio appears playing the everyday fun song at a concert that the Mega Rangers attended.

TV STORY-Emperor Mavro (episode) Mia and the other Samurai Rangers returned as part of the army of Legendary Rangers that helped the Mega Rangers defeat the Armada once and for all, fighting in a huge battle against hundreds of X Borgs and dozens of Bruisers.

TV STORY-Legendary Battle

Split History
Shattered Grid
Battle against Drakkon
When events set into motion by Lord Drakkon caused the timeline to split into pocket universe, each anchored on a powerset, Mia and the other Samurai Rangers were split off into their own pocket universe. The split occurs after they defeated the Nighlok. Lauren is back leading the Samurai Rangers, while Jayden and Mentor Ji are away on a secret mission. Lord Drakkon and his Mastodon and Sabertooth Sentries arrive and battle the Samurai Rangers for their Samuraizers. Drakkon manages to take the Shiba House and capture the Rangers.

TV STORY-Mighty Morphin Power Rangers (Boom! Studios) Issue 26
Defeated and Captured
In the aftermath of Lord Drakkon seizing control of the Shiba House and the Samuraizers of the Samurai Rangers, is see by Zordon and Alpha 5 in the Command Center before that he must have an audience with the Emissaries.

TV STORY-Mighty Morphin Power Rangers (Boom! Studios) FCBD 2018 Special

Beyond the Grid
She was later seen in Promethea, when it was already in another dimension, cooking soup for all the Rangers.
When the timeline was restored, so was Mia.

Video Game Appearances
Power Rangers Key Scanner
Mia as Pink Samurai Ranger appears in the app videogame Power Rangers Key Scanner, amoung various other Rangers teams.

Power Rangers Dash
Mia along with the other Samurai Rangers among all the Ranger teams which appear in the Korean-developed mobile game Power Rangers Dash.
Family
Pink Samurai Ranger
As the Pink Ranger, Mia has access to multiple modes.
Samurai Ranger
Mia morphs into her Ranger costume for close combat and ground battles. To morph she uses her Samuraizer.
Arsenal
Zords
Appearances: S Episodes 1-20, SS Episodes 1-4, Clash of the Red Rangers, 5-22, SM Episodes 20 & LBEV
Mega Mode
Pink Ranger morphs into her Mega Mode for Megazord battles. To change modes she morphs her Spin Sword into the Mega Blade.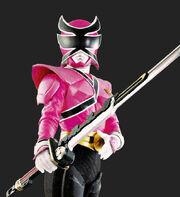 Arsenal
Zords
Appearances: S Episodes 1-15, 20, SS Episodes 1, 2, Clash of the Red Rangers, 5, 6, 8, 10, 12-17, 20-22
Super Samurai Mode
For added power in close combat and ground battles, Pink Ranger goes into Super Samurai Mode with the Black Box. The Rangers can only access this mode one at a time.
Arsenal
Zords
Appearances: SS Episodes 7, 9
Super Mega Mode
While in the
Black Box
's Super Mode, if a Megazord battle is necessary, the Pink Ranger can morph her
Spin Sword
into the
Mega Blade
. The resulting combo is a mix of both Mega and Super modes. The Rangers can only access this mode one at a time.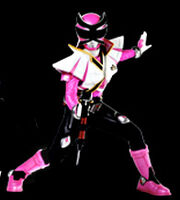 Arsenal
Zords
Appearances: SS Episodes 7, 9
Shogun Mode While in Super Mega Mode, the Pink Ranger can summon Battlizer armor with the Shogun Buckle. The Rangers can only access this mode one at a time. Mia used this mode only once in battle.

TV STORY-Runaway Spike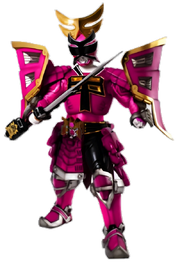 Arsenal
Zords
This form is exclusive to SS Episode 9.
This mode appeared during the first of Trickster's illusions. This mode does not power up nor power down Mia.

TV STORY-Trickster Treat
This form is exclusive to SS Episode 21.
Morph and Roll Call
Ranger Key

The Pink Samurai Ranger Key is Mia's personal ranger key. This key along with the majority of the Core Ranger Keys are seen lining the Command Center's interior walls. This key is mainly used by Emma Goodall (Super Megaforce Pink) who uses it to fight as the Pink Samurai Ranger.

Behind the Scenes
Portrayal
Notes
The character on her helmet (天) is the kanji character for "heaven," but was translated as "sky".
Early scripts listed her name as "Sadie."
In certain episodes, Mia will wear black clothes instead of pink.
She is the first Pink Ranger to have a Battlizer-like armor. She is also the first female with a Battlizer-like armor.
Her surname was only revealed via her driver's license.[2]
In the Japanese dub of Power Rangers Samurai, Mia is voiced by Sachiko Kojima.
According to Mia's driver's licence, she is 5 feet 6 inches tall, weighs 110 pounds and lives at 85921 Florentine Prm Panorama City PR 649818 (the Shiba House).
Appearances
References
See Also
References