Matthew Cook is a student at Angel Grove High School, a classmate of the Rangers and an unspecified athlete of the football team. He is Kimberly's boyfriend and later, ex-boyfriend.
Some time after Tommy Oliver became the White Ranger, Matthew became the new Green Ranger, working under Grace Sterling and Promethea.
History
After watching Kim activate her Gravezord, Matt soon figures out that she is an older Kimberly and puts the pieces together that his best friends are the Mighty Morphin' Power Rangers. Matt confronts them about it after their monster battle, at first promising to keep it a secret if they just be honest with him. The five reluctantly don't say anything and Matt gets angry about their lies and storms off.
After Billy is able to re-power the Dragon Power Coin, he then gives it to Grace Sterling who uses the technology at Promethea and the Green Psycho Ranger's Dagger she recovered decades earlier to recreate the Green Ranger. All the enhancements also changed the appearance of the Ranger suit itself.
Grace later chose Matthew to become the new Green Ranger, with him reporting exclusively to her and Promethea as well as assisting the Rangers on a need to know basis.

COMIC STORY- Mighty Morphin Issue 5
He later revealed his identity to the public when Angel Grove was trapped by Lord Zedd to give the people hope.

COMIC STORY- Mighty Morphin (Boom! Studios) Issue 4

COMIC STORY- Mighty Morphin Issue 5 To the shock of the other Rangers, Matt later joins Lord Zedd's army and orders them to stand down. He claims he isn't mind controlled and wants what is best for Angel Grove.
Family
Personality
Matt is a friendly individual who despite being a jock, does not conform to the social standards of the hierarchy of high school and goes out of his way to be helpful to others. He is shown to be very understanding, patient and down to earth. He also shows strong affection and devotion to Kimberly, even going so far as to look for her during the first monster attack in Angel Grove when everyone else was fleeing for their lives (unaware she is the Pink Ranger).
However, Kimberly's secret duties as a Power Ranger causes him to develop hints of bitterness toward her as he tries to make their relationship work but ends up feeling it is a one-sided effort as her lying begins to cause the relationship to slowly deteriorate after being stood up on dates while she was on missions.
After Matt was abducted by Rita and subjected to experiments for months to create a Putty duplicate that could think and act exactly like him using extracted memories and thoughts, Matt showed resilience and figured out a way to escape back to Earth from the Moon. But the process Rita subjected him to did an untold extent of psychological damage, as he has memory lapses and suffered a severe case of PTSD that included minor catatonia, lack of eating, avoiding communication with friends and family and terror induced acts of isolation.

TV STORY-Go Go Power Rangers Issue 8
Matt recovers from this a short time later, but isolates himself from the Rangers.  While they at first think he's upset with them about something, he admits to Kimberly after she confronts him that it's instead because he feels he has a special connection to the Rangers, wanting to protect them from danger.
During a Zord battle with the Ranger Slayer's Gravezord, Matt jumps a police barrier and rushes to the scene.  He's spotted by the Gravezord and alt-Kimberly says his name, proving a further connection to him.  The Rangers make him promise to never pull a dangerous stunt like that again, but he only promises to tell them first.
He does so later during a double monster-attack, but the Rangers don't answer since they are heading to the scene. Matt encounters Ranger Slayer re-activating the Gravezord, and is exposed to her by falling rubble.  It becomes clear to him who she is, especially when she apologizes for not telling him.
Later, it becomes clear that Matt has put the pieces together, and he confronts the Rangers with knowledge of their identities, but insists they tell him themselves, or he will walk out of their lives forever.  However, due to the Rules of the Ranger, they cannot, so he leaves. He became bitter and avoided the group, refusing to talk to them. He also stopped dating Kimberly, even trying to make her jealous by dating the more popular girls, which she responded to in kind by going on a fake date with Skull. 
Matt eventually decides to reconcile with Kimberly and understands why the Rangers must keep secrets, deciding to be confidant and a friend that she can talk to about her Ranger problems. He at first sees it as an opportunity to restart a relationship with Kimberly but eventually learns she is dating Tommy, much to his disappointment, but he still tries to be a supportive friend in spite of this.
Green Ranger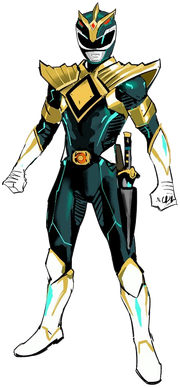 Matt's Green Ranger form has a slightly different appearance than the usual Green Ranger form that Loriyan and Tommy Oliver had. This Green Ranger form has extra gold trim, especially on the helmet. The body suit also seems to be structured differently, appearing more armor-like and a darker shade of green with some glowing trim on the suit and on the front of the boots. This power was given to him by Grace Sterling through the re-energized Dragon Power Coin.
It is also implied by Grace that the Dragonzord he now controls has been modified by Promethea to be combinable with the White Tigerzord or Thunderzords.
Arsenal
Zords
Notes
The design of Matthew's Green Ranger form is similar to the design of the Green Ranger V2 form from Power Rangers: Legacy Wars and Power Rangers: Battle for the Grid, which was a pre-order-exclusive skin for Tommy Oliver, but has some differences in the armor-like body suit, gloves, and boots. and this design was used on One Match on Bat in the Sun a.k.a. the Green Ranger vs Ryu.
He is chronologically the first Power Ranger to reveal his identity to the public.
Behind the Scenes
See Also
Loriyan - His predecessor as the first Green Ranger in Boom! Studios Comics, who originally stole the Green Dragon Power Coin from Ninjor as an assignment from Rita.
Tommy Oliver - His predecessor as the second Green Ranger in Boom! Studios Comics.
References