Master Blue (マスターブルー, Masutā Burū) was a veteran knight and the trainer of his squire, Melt, who inherited his Ryusoul Ken.
Character History
He passed on his Ryusoulken to his student, Melto for him to succeed as Ryusoul Blue.
When a giant Minosaur arrived at the temple to destroy it along with the Kishiryuu that lay slumber in, he and Master Pink team up with their students to stop the Minosaur while Koh and Master Red head inside the temple. However, with Tankjoh and Kleon's infiltration of the temple, their transformations were cancelled and the Minosaur easily broke free from the ropes and the wrecking ball that held him down. Just as the Minosaur was about to incinerated Melto and Asuna, Master Blue and Pink shoved them out of way taking the hit, killing and incinerating the two. Ep. 1: Que Boom!! Ryusoulger
When the Ryusoulgers were lured in a pocket dimension by a Minosaur and Melto was frustrated that no one thinks he can do anything on his own or trusts him, Master Blue mysteriously appears in front of Melto telling him that the reason he overthink things is because that he cares for his friends more than anything and that he should trust them more. Drunn Soldiers came charging at them coming from Towa's desire to become stronger and Master Blue tells Melto to transform. After defeating the soldiers, two Minosaurs appears and Melto was unable to defeat them. Master Blue tells Melto that he needs to defeat both of them at the same time and gave him encouraging words to believe in himself and what he desired was confidence. After Melto was able to defeat the Minosaurs, Master Blue dissappeared. When Melto discovered the charm that he gave Master Blue in a treasure chest, it left him wondering if the Master Blue he encountered was real. Ep. 9: The Strange Treasure Chest
Powers and Abilities
Ryusoul Tribesman Physiology

As member of Ryusoul tribes, he possessed these following abilities:

Longevity

Ryusoul tribespeople age very slowly and can live for hundred years.
Ryusoul Blue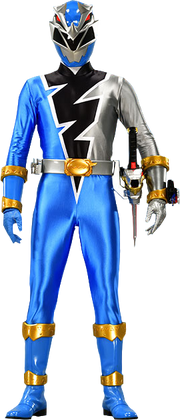 Arsenal

This Form is Exlusive to Episode 1.
Behind the Scenes
Portrayal
Master Blue is portrayed by Jouji Shibue[1], who also portrayed Mamoru Chiba/Tuxedo Mask in Pretty Guardian Sailor Moon as well as Iori Izumi/Kamen Rider Ibuki in Kamen Rider Hibiki. As Ryusoul Blue, his suit actor is Jun Watanabe (

渡辺淳

Watanabe Jun

).
Notes
Appearances
See Also
References
Community content is available under
CC-BY-SA
unless otherwise noted.