This article is about a/an series entry (the 44th) in the Super Sentai series.
Mashin Sentai Kiramager (魔進戦隊キラメイジャー, Mashin Sentai Kirameijā)[2][3], translated as Machine Squadron Sparkling Ranger, is the 44th season of Super Sentai. The show's theme is gemstones and vehicles.
The series premiered on the Sunday morning Super Hero Time
block alongside Kamen Rider Zero-One
after its predecessor Kishiryu Sentai Ryusoulger concluded its run on March 1, 2020. After Zero-One's finale on August 30, 2020, Kamen Rider Saber
joined Kiramager in the Super Hero Time block.[4] On March 7, 2021, it was replaced by Kikai Sentai Zenkaiger in the Super Hero Time block.
The average rating is 3.6%[5]
Production
"From past to present all over the world, fun stories always have "gems" appear in it. An adventure involving ancient artifacts, treasure chests in pirate ships, infinite stones all over space… These "shiny and sparkling things" that have crystallized by heat and pressure deep underground have always fascinated us.
In this title, we are attempting as part of the 44th Super Sentai show to utilize these gems for the first time ever as they change into children's favorite "playthings". Gems x Vehicles = Mashins. Our heroes will engage in an adrenaline-fueled adventure as they share a bond with these Mashins. Why is it that gems shine? It's because light reflects off of it in intricate ways. Super Sentai incomparably has many faces. Human drama, life-sized action, special effects involving machines and robots, a world view with a sense of wonder, and a cast of fresh faces. By taking in various rays of light with these various aspects a Sentai team shines as a Sentai team. And from it all, Mashin Sentai Kiramager aims to be the most "sparkling Super Sentai ever". Please look forward to it!" - Toei Producer Hideaki Tsukada explains how the theme of Kiramager came to be.
Impact of the 2020 COVID-19 pandemic
On March 31, 2020, it was reported that Rio Komiya, who portrays Juru Atsuta, had tested positive for COVID-19 after experiencing symptoms and stopped filming the weekend prior. None of the other cast or crew members were reported to have been infected or displayed any symptoms whatsoever.[6] By April 9, Komiya confirmed via Twitter that he had recovered and would continue his two-week self-quarantine at home.[7]
As a result, filming schedules were altered and the broadcasting of new episodes was delayed following the airing of Super Hero Time on May 10, 2020, which included Episode 35 of Zero-One and Episode 10 of Kiramager. From May 14 to June 14, Kiramager aired a series of specials, a televised version of Episode Zero, and a special director's cut of Episodes 1 and 2. In Zero-One, similar recap episodes were aired as well. During the airing of these recap episodes, both shows featured early bird appearances from the future.
Shortly after Japan lifted its state of emergency on May 25, 2020, Toei announced that both Zero-One and Kiramager would resume filming with newly placed guidelines during filming to control any further spreading of the virus.[8] New episodes of both series resumed airing on June 21, 2020.[9]
Plot
"When people shine, a miracle is born. That shine is the symbol of the warriors who can change the future! KIRAMAI GO! (

人が輝く時、そこに奇跡が生まれる。輝きそれは未来を変える戦士の証し。キラメイ GO!

Hito ga kagayaku toki, soko ni Kiseki ga umareru. Kagayaki sore wa Mirai wo kaeru Senshi no akashi. Kiramei Gō!

)"
―Narrator
A princess from a land of jewelry and Kiramai Stones comes to Earth in search of people with a "shining spirit" called Kiramental, a source of outstanding charm and talent. She seeks them out to make them into warriors to defend Earth from an evil army. Five are chosen by the Kiramai Stones, which transform into sentient vehicle companions known as Mashin. Using these powers, they fight the evil army bent on robbing people of their hope and radiance.
Characters
Rangers
Mashin
Allies
Civilians
Villains
Arsenal
Transformation Devices
Individual Weapons and Team Weapon
Sidearms
Other Devices
Mecha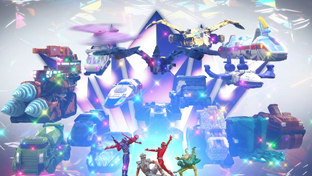 Mashin System
Legend:◆ main mecha, ❖ auxiliary mecha, ➲ carrier mecha
Auxiliary
Mashin Weapons
Additional Formations
Episodes
The episodes in this Sentai season are referred to as Episode (エピソード, Episōdo). The last time the term "Episode" was used was in Tokusou Sentai Dekaranger. The titles themsleves are references to popular Toei films.
Movies

Specials
Cast
Guest Stars
Suit Actors
Kiramai Red: Shigeki Ito (

伊藤茂騎

Itō Shigeki

)
Kiramai Yellow: Masato Tsutamune (

蔦宗 正人

Tsutamune Masato

)
Kiramai Green: Ryoko Gomi (

五味 涼子

Gomi Ryōko

)
Kiramai Blue: Yasuhiro Takeuchi (

竹内 康博

Takeuchi Yasuhiro

)
Kiramai Pink: Ayumi Shimozono (

下園 愛弓

Shimozono Ayumi

)
Kiramai Silver, Mashin Henkei GigantDriller, Kiramai Gold, Cart Hildon[19]: Masashi Takada (

高田 将司

Takada Masashi

)
King Oradin, Mashin Gattai Land Mage, Mashin Gattai Kiramaizin: Yohei Fujita (

藤田 洋平

Fujita Yōhei

)
Mashin Gattai King Express, King Express Zabyun, Rugby Jamen: Hirotsugu Mori (

森 博嗣

Mori Hirotsugu

)
Mashin Gattai Grateful Phoenix: Shinsuke Kusano (

草野 伸介

Kusano Shinsuke

) [20]
Princess Mabushina, Queen Mabayuine: Mizuho Nogawa (

野川 瑞穂

Nogawa Mizuho

)
Demonic General of Betrayal Galza, Darkness Megabeast Mecha Smog Jouki: Keizo Yabe (

矢部 敬三

Yabe Keizō

)
Darkness Megabeast Mecha Smog Jouki (episode 33 onwards):

Kenya Saitou

(

齊藤謙也

Saitō Kenya

)
Mask of Darkness Carantula: Naoko Kamio (

神尾 直子

Kamio Naoko

)
Witch of the Stagnant Sea Numajo:

Yuki Miyazawa

(

宮澤雪

Miyazawa Yuki

)
Shadon, Emperor Yodon, Kiramai Red (sub, some scenes of the opening & ending, episodes 1 & 2): Kazuya Okada (

岡田 和也

Okada Kazuya

)[21]
Whac-A-Mole Jamen, Nazokake Jamen: Hiroyuki Muraoka (

村岡 弘之

Muraoka Hiroyuki

)
Reset Button Jamen: Masaru Ōbayashi (

大林 勝

Ōbayashi Masaru

)
Staff
Songs
Opening Theme
Ending Theme
Movie Theme
Insert Themes
"Tsuranuki Shining! Kiramai Silver" (

貫きシャイニング!キラメイシルバー

Tsuranuki Shainingu! Kiramei Shirubā

)

Artist: Takashi Deguchi
Lyrics: Shoko Fujibayashi
Composition: Junichi Matsumoto
Arrangement: Cheru Watanabe

"Yuki wo Kana de te" (

勇気を奏でて

Yūki o Kanaedete

) (Episode 24)

Artist: Kiramai Band
Lyrics: Takashi Deguchi
Composition & Arrangement: Yohei Onishi
"Go Kiramager" (

ゴーキラメイジャー

Gō Kirameijā

)

Artist & Lyrics: Yohei Onishi
Composition: Yūsuke Mochida
Mecha Themes
"Mashin Gattai Kiramaizin" (

魔進合体 キラメイジン

Mashin Gattai Kirameijin

)

Artist: Akira Kushida
Lyrics: Shoko Fujibayashi
Composition: Junichi Matsumoto
Arrangement: Junichi Matsumoto & Yuki Saito
Character Themes
NOTE: As part of the Kiramai Music Festival (キラメイ音楽祭, Kiramei Ongaku-sai), "Kiraful Miracle Kiramager" would be replaced with some of these character songs in the end credits each week for nine weeks.[23]
"Kiseki o Yumemiru?" (

キセキをユメみる?

Kiseki wo Yumemiru

) (Episode 29)

Artist: Sayo Oharu / Mio Kudo (

工藤 美桜

Kudō Mio

)
Performance: ZETKI
Lyrics & Composition: Hideaki Takatori
Arrangement: Hiroaki Kagoshima
Stage Shows
Video Release
Toyline
Video Games
Notes
Kiramager is the first Super Sentai to have the following:

Its own film double-billed with another Sentai movie and the first to detail the origins of a team in a film rather than in the TV series.
A full televised run in the Reiwa Era following the abdication of Emperor Akihito on April 30, 2019, early in Ryusoulger's run.
Three Giant Robos to begin with: Land Mage, Sky Mage, and Kiramazin.

Because of COVID-19:

Kiramager's production was completely interrupted, stopping after Rio Komiya had been diagnosed with COVID-19 on March 31 and restarting June 1. As a result, its episode count was cut from 49 to 45.
Masks were worn more often by background characters than in previous seasons.
Kiramager being the first season to have both its summer movie and crossover with their predecessors premiere the same year due to movie theaters being shut down when the summer movie should have premiered.

Like Engine Sentai Go-Onger, "Mashin" (

魔進

) literally translates as "magic" or "sorcery." The logo for the series uses the English word "machine" in the title instead of the romanization of the kanji as "mashin." The latter kanji (進) means "progress".
This is the first Sentai series where the Red Ranger (Kiramai Red) passes the torch to the White Ranger (Zenkaizer) in their traditional sentai handoff.
External links
References