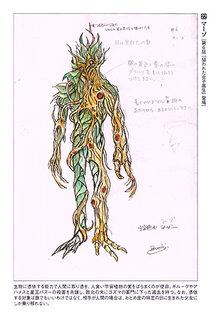 Marzo is a Space Beast of the Great Star League Gozma
Character History
A plant-like Space Beast who allied with Giluke during a failed assassination attempt on Bazoo; the space master allowed for him to join with his former ally believing this plan would work on Earth. The plan involved possessing girls born on a certain day during the sign of Virgo (September 12th) and having them plant seeds through the city before abandoning them with their energy drained; the seeds would sprout vines and attack anyone who went near them. Marzo likewise used his own vines to attack those near them. The Changeman discovered the pattern and used Sayaka and Mai to draw out the Space Beast through his next victim, tricking it by not revealing who they were until it showed itself. Destroyed by the Power Bazooka, then by Change Robo after Gyodai rebuilds it.Ep. 6: The Targeted High School Girls
Personality
Marzo was once rebelios agients Bazoo   alling with Giluke during a failed assassination attempt. but after being spared by him he seem very gratful for his life and is now loyal.
Modus and Arsenal
Marzo's plan involved possessing girls born on a certain day during the sign of Virgo (September 12th) and having them plant seeds through the city. once planted the seeds would sprout gaint vines that attack any living thing that comes in reatch. the vines kept growing intill destroyed. enoth of them would have presumibly over run the planet.
Notes
Portrayal
Behind the Scenes
References
Community content is available under
CC-BY-SA
unless otherwise noted.