"It's Morphin Time! HyperForce! Red! Ready! Power Up!"
―morphing call[src]
Marvin "Marv" Shih is HyperForce Red.[1] He is an extra-terrestrial human from the planet Kaien.
History
Receiving Zordon's call through the Morphin Grid, the six HyperForce Rangers were among those who rallied to his pocket dimension for the final stand against Lord Drakkon.

TV STORY-Mighty Morphin Power Rangers (Boom! Studios) Issue 29
Personality
RPG Bio: Guarded, Decisive, Caring and loves video games and comic books
Family
HyperForce Red
The HyperForce Red Ranger has control over the power of flame and utilizes it offensively to augment his attacks or shoot flame projectiles.
Arsenal
Zords
Appearances: Hyper Force Episodes 1-10, 12-25  

Morph and Roll Call
Relationships
Behind the Scenes
Portrayal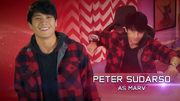 Marvin is portrayed by Peter Sudarso, better known for portraying Preston Tien, Ninja Steel Blue of Power Rangers Ninja Steel.

Notes
Appearances
References