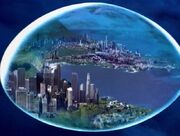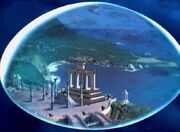 Mariner Bay, California is a city which was built on an ancient demon burial ground from which the Lightspeed Rangers would defend against the Demons.
2017 Reboot
Mariner Bay is located within Angel Grove alongside Reefside. Sam Scott was at "Mariner Bay and Reefside" when he called his son Jason.

TV STORY-Power Rangers (2017)
Behind the Scenes
Hexagon
Mariner Bay was one of several cities in the Power Rangers universe which would appear on a regular basis in Hexagon, the original plan for the season after Wild Force. The Hexagon Rangers would travel to these familiar locations to respond to threats of evil.
Notes
In Ryan's Destiny, it's mentioned that Mariner Bay is located near Van Nuys, California.
Appearances