Marina Maeda (前田 真利菜, Maeda Marina) is a photographer whose life was destroyed in a similar way to Haruka Kito, with the former having temporarily renounced and passed on the role of Oni Sister (オニシスター, OniShisutā) to Marina.
History
Marina was a professional photographer before becoming Oni Sister. Following in the footsteps of her father, she became a photographer and only took pictures of rainbows. Marina replaces Haruka as the new Oni Sister when Haruka chooses to return to her old life as a manga author. After receiving the Donbrothers powers, Marina is accused of plagiarising (similar to how Haruka is accused of plagiarism in episode 1) someone else's photo. Due to that, she gives up on photography and starts working part-time at Cafe Donbura as a waitress.
Marina meets Haruka for the first time at Haruka's autograph event and gives her Marina's phone number. Marina tells her to contact her in case of need, but Haruka misunderstands her to be a stalker. At another place, Haruka notices that Marina is following her. So, she asks a man on the street for help. The man turns out to be Kaizokuki, the monster targeting famous manga authors. Marina transforms in front of Haruka, revealing herself to be the current Oni Sister. Then Marina saves Haruka from the Kaizokuki.
Later, Haruka contacts Marina and asks her to introduce her to the other Donbrothers (who don't recognise Haruka anymore). Marina takes her to Visit Shinichi and Tarou. Haruka tries to help them but ends up causing trouble. Afterwards, they have lunch at a restaurant. There, Marina sees the picture she was accused of plagiarizing, and gets upset. Then Marina tells Haruka about how she became Oni Sister. She also says that she gave up on photography because her hands shake whenever she attempts to take photos. But she says that she is satisfied with her current state, and is happy to be able to protect the world from evil.
After that, the Kaizokuki reappears and the Donbrothers try to fight him off. During the fight, Marina's hands shake when shooting with her Don Blaster and she drops it. Seeing that, Haruka realizes that Marina hasn't completely given up on her dreams, and goes to get her Oni Sister powers back.
At the end of the episode, it is seen that Marina goes back to her life as a photographer. She also wins a photography award for the photo of the rainbow she had taken.
Personality
to be added

Oni Sister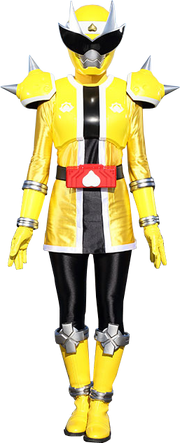 "(traditional/rock music remix) Oni Sister! Hey yo! Oni Ni Kanabo!"
―Transformation announcement[src]
Powers and Abilities
Powers
to be added
Attacks
to be added
Abilities
to be added
Weaknesses
to be added
Arsenal
Appearances: Donbrothers Episodes 10
Behind the Scenes
Portrayal
Marina is portrayed by Hiyori Katada, who had previously contended against Kohaku Shida for the role of Haruka but did not win her audition.
Design
to be added
Etymology
to be added
Notes
to be added
Appearances
References