Boba Fett Returns - The Loop
Play Sound
"I've... Yeah'd my last...!"
―Final words before Death
Manta Bayarsh (マンタ・バヤーシ, Manta Bayāshi) was a manta ray-themed Gangler Monster of the Interdimensional Crime Group Gangler, equipped with the "Belles balles de feu/Beautiful fireballs" treasure from the Lupin Collection.
Character History
Manta Bayarsh made his first appearance where he caused some mayhem at a wedding of the newly wed couple only to stopped by the arrival of the Lupinrangers. After the intro he demonstrated his ability by swapping the minds of Umika Hayami with a dove. After that Lupin Blue doubt that was fake Manta demonstrates again by swapping the minds back to their original body, but that one was a trick so instead he was about to swapped the minds of Tooma and a dove, but the bird flew out of the way, so instead his mind was swapped with Tooma instead. Also due to the arrival of the police they fired on Tooma who now has Manta Bayarsh's body instead because Manta Bayarsh's mind is now inside Tooma's body, so when the police are dealing some damage to Manta's body he'd made a get away in Tooma's body.
A while later within Tooma's body Manta has become very popular with the ladies, but as for Tooma not so much since he has a Gangler's body he has to be hidden from the police and its quite difficult to go through doors into buildings. However since Manta's power and mind was within Tooma's body they have to get him and bring him back to Bistro in order to reversed the process, but on the bright side at least Umika managed to access into the safe (which his password is 5-2-7) and grabbed Belles balles de feu (which translate as "Great Balls of Fireball") ball.
A while later he was called out to a duel with Kairi at the construction site and if he wins well he'd gets the ball back from what they stole, so once they transformed they began to fight each other. After that he managed to swapped their minds back into their original bodies in a last ditch effort. He was about to fire some electricity at thieves but Lupin Blue used the shield to prevent that and Manta Bayarsh was taken out.
However thanks to Goche Ru Medou he was then enlarged and battle Lupin Kaiser. However as he was about to swapped the mind of a robot with a building he was prevented to do that and now he he's facing with Cyclone Knight, but he was then destroyed by this finisher called GoodStriker Shooting-Out Flash.
Personality
He was initially a pessimistic character, loathing being in Tooma's body. His attitude changed after seeing that his new looks made him popular with girls, showing him to be a bit of a womanizer. He can also be cowardly and cruel, using Tooma's body as a shield to prevent his friends from attacking him.
Forms
Powers and Abilities
Powers
Mind swapping: Manta is able to swap bodies using the energy beam from his hands.
Lightning Generation: Manta can produce lightning from his horns.
Flight: Manta is able to fly. He only used this ability when he was enlarged.
Fireballs: Due to the "Belles balles de feu/Beautiful fireballs" treasure equipped in his safe, Manta can shoot balls of fire from his mouth.
Abilities
to be added
Weaknesses
to be added
Arsenal
to be added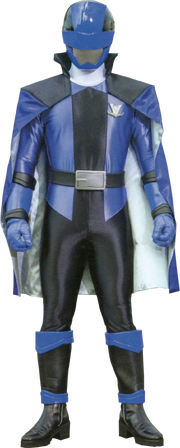 "Blue! 2-6-0! Masqueraise! Kaitou Change! Lupinranger!"
―Transformation announcement via VS Changer
Powers and Abilities
Powers
to be added
Abilities
to be added
Weaknesses
to be added
Arsenal
Mecha
Appearances:
Kaitou Sentai Lupinranger VS Keisatsu Sentai Patranger Episode 16
Profile
Criminal Record: Content Replacement Fraud, Swapping minds with a civilian, Identity Theft, Arson, Bombing
Lupin Collection: "Belles balles de feu/Beautiful fireballs" Ball
Gangler Safe Location: Back
Password Number: 5-2-7
Behind the Scenes
Portrayal
Design
Manta Bayarsh is based on a manta ray.
Manta Bayarsh is designed by Ryosuke Shibuya.
Concept Art
Etymology
to be added
Notes
to be added
Appearances
to be added
External links
TV-Asahi's page on Manta Bayarsh
References