"Ay-yi-yi, this place is a disaster!"
Actually, this article/section is in need of clean-up. You can help us out by editing it!
Reason: Character history missing.
Luka Millfy (ルカ・ミルフィ, Ruka Mirufi) is Gokai Yellow (ゴーカイイエロー, Gōkai Ierō), the Yellow Ranger of the Gokaigers.
History
Early life
On her natal planet, Luka at some point lost her parents, and started early to live a life of poverty with her sister Lia, and her childhood friend Cain, as well as other orphan children. Luka used to feed the children by stealing and selling from the weapons warehouse of the Space Empire Zangyack. Unfortunately, Lia rapidly died from very bad life condition.
Years passed, and she became a genuine thief, highly cherishing money. As she was keeping on stealing from Zangyack, she met Captain Marvelous and Joe Gibken, the 2 first members of the Gokaigers who also were infiltrating the warehouse and helped her in her way. Luka herself was intrigued by the story of the Greatest Treasure in the Universe which have been told by Marvelous, and in consequence, she became Gokai Yellow, the 3rd member of the Gokaigers.
Epic ON Ginmaku
When Shinkengers and Goseigers were teaming up, Luka and the other Gokaigers arrived from more than 1 year in the future to protect the Megakure Shrine. Luka tells Secret Lantern Daigoyou, who witnessed the fight, to not tell anyone, in order to not create a severe time paradox.
Gokaiger
Some time after the Great Legend War, upon arriving on Earth, the Gokaigers fought an ambushing fleet of Zangyack, that was also approaching Earth. When the Gokaigers arrived, they all asked some civilians if they know about the Greatest Treasure in the Universe, which they answered negatively. Afterwards, a hungry Marvelous would order Luka to sell some of her rings for some cash to get some food. When Shikabanen destroyed the Snack Safari when attacking the city, each of the Gokaigers would get mad for an exact reason, and Luka's was the fact the attack spilled her precious money all over the place. She also wished to help the Earthlings, because she felt the children would live the same poor life as her. With their courage, the Gokaigers stand up to the invaders and fight them as the 35th Super Sentai, the Kaizoku Sentai Gokaiger. During the fight, the team would change into their respective members of the Gorengers, Magirangers and Shinkengers (for Luka, (Kirenger, MagiYellow and Shinken Yellow).

TV STORY-Ep. 1: The Space Pirates Appear
To be added

TV STORY-Ep. 2: The Worth of This Planet
Bounty
Luka's bounty was initially at Z=100,000 when they met Hakase

TV STORY-Ep. 42: The Strongest Man in the Universe, which increased to Z=300,000 when they reached Earth

TV STORY-Ep. 1: The Space Pirates Appear , but this is eventually raised to Z=750,000

TV STORY-Ep. 5: Judgement Pirates . This is then raised even further to Z=1,500,000

TV STORY-Ep. 15: A Privateer Appears and finally to Z=3,000,000

TV STORY-Ep. 39: Why? We're High School Students
The latter 3 are half the amount of the midpoint between Joe and Ahim following the pattern starting with Marvelous and ignoring Hakase. (The last counting Basco's Z=10,000,000 in the stead of Marvelous' "UNLIMITED REWARD".)
Imitations
The shape-shifting monster Vannain took the form of Luka. After luring Luka while in the form of her old friend Cain, he captured her and assumed her form to infiltrate the Gokai Galleon. Joining the Gokaigers during dinner, he later planted explosive charges across the ship while they were asleep. Later, Vannain detonated the charges, seemingly destroying the Gokai Galleon. Little did Vannain know, the Gokaigers easily discovered that Vannain was an imposter, having observed him eating broccoli while in Luka's form, whereas the real Luka hated broccoli. After deactivating the bombs he planted, they had Fūraimaru use his illusion technique to stage their ship's explosion to deceive him and follow him to Luka. During the fight with the Gokaigers, Vannain briefly assumed the form of Gokai Yellow while fighting Luka, moving onto Gokai Silver while fighting Gai.

TV STORY-Ep. 34: Dream Comes True

Super Hero Taisen
When Marvelous was hunting Kamen Riders, she was with the rest of the crew to fight Dai-Zangyack and to be the confused ones about how Marvelous came to get along with the enemy, and how his plan has to be killing all Kamen Riders, as they're heroes too. Nearly after meeting the Go-Busters, she's "killed" by Tsukasa Kadoya
with her Ahim, Gai, but they were in fact transported to a void space via Aurora Curtain
, where they meet other Rangers and Riders. The plan was in fact to destroy Dai-Zangyack and Dai-Shocker
, by uniting every Super Sentai and Kamen Riders
available. When fighting, the Gokaigers used a full OOO
Gokai Change, so Luka transformed into Kamen Rider OOO RaToraTa Combo
Go-Busters vs. Gokaiger
To be added
Super Hero Taisen Z
To be added
Zyuohger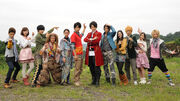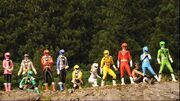 The Gokaigers returned to Earth in a quest spearheaded by Captain Marvelous with the goal being the treasure inside the Link Cube. As Marvelous acquired the treasure personally while Gai arranged for the legendary Sentai that had emerged since their initial departure to provide their Ranger Keys to assist them in battle, Luka and the others were sent to provide a distraction, guided by Navi into a confrontation with the four Zyuman members of the 40th and current Super Sentai, the Doubutsu Sentai Zyuohger. Engaging the Zyuohgers so as to stall them, Gokai Yellow fought Zyuoh Tiger one-on-one followed by her counterpart, Zyuoh Lion. Finding themselves overwhelmed by the Zyuohgers' Instinct Awakened modes, the Gokaigers selected from the Ranger Keys of recent years that Gai had acquired in order to turn back the tide of the battle, with Gokai Yellow Gokai Changing into her counterpart from the Tokumei Sentai Go-Busters.

TV STORY-Ep. 28: The Space Pirates Return

TV STORY-Ep. 29: The Monarch of the Monarchs

Zyuohger vs. Ninninger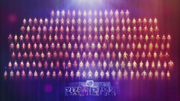 Gokai Yellow appeared with her team among the first 38 Super Sentai whom collectively empowered Wild Tousai Shuriken King in its fight against the titanic Gillmarda, granting the Ninningers and Zyuohgers the power to perform the Zyuoh Ninnin Super Sentai Burst which destroyed Gillmarda with the combined power of all 40 Super Sentai.

TV STORY-Doubutsu Sentai Zyuohger vs. Ninninger: Message from the Future from Super Sentai

Kyuranger vs. Space Squad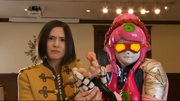 Luka appears in the mid-credits scene of Kyuranger vs. Space Squad where she steals one of Raptor 283's macaroons (ironically taking the pink one instead of the yellow one next to it). Raptor immediately tries to stop her before they start fighting over it. Hammie notes that their voices sound very similar, which both do not see how.
Super Sentai Strongest Battle
Luka was absent from the Gokaigers when they fought against Gaisoulg, who Marvelous notices using Luka's signature "Bladed Whip" attack.

TV STORY-Battle1: Who is the Strongest in History!? It is revealed by Stinger that Gaisoulg was actually the armor with Luka inside. After moving on to Takaharu Igasaki, Gaisoulg left her chained up and later Takaharu as well after moving on to Stinger.

TV STORY-Battle3: A Secret Revealed
After Marvelous dons Gaisoulg's helmet to find her and Takaharu, Luka blasts him in the face with her Gokai Gun to get the helmet off and stomps on him to get him up. Asking him why he was so reckless, Marvelous tells her that he figured it would be fine since she was there, to which she responds with her signature, "Shut up, fool". After she explains Gaisoulg's history and Marvelous considers the matter wrapped up, he tasks her with taking down the barrier preventing communication with the outside for skipping out on their team, which prompts her to punch him. After destroying the barrier, she waits for Marvelous to come pick her up, which he fails to do and she decides that she'll have to punish him.

TV STORY-Final Battle: Heading Towards Tomorrow!
Zenkaiger
To be added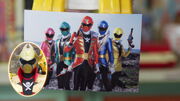 Kaizoku Sentai: Ten Gokaiger
To be added
Personality
A tomboy and the ship's lookout who dislikes needing to have a reason to act. Excels in RECON and exploration, and has a strong tenacity for treasure hunting, earning her respect from her peers. However, her need to get the treasure often makes her forget the mission is in front of her, be that when it comes to the enemies, or her friends. Having grown up in a poor family, Luka appreciates the value of money to the point of greed. Despite this greed though, her crew views her as a good person, especially Ahim.
She frequently trains her eyes (by spotting a minimum amount of shooting stars before she goes to sleep) to help her reaction time in combat and to spot treasures. Originally a poor, homeless girl, she appreciates the value of money and tries to finds ways to get money which borderlines on being greedy. She also has a collection of expensive jewelry which the others will sometimes use to exchange for local currency, much to her dismay.

Forms
Behind the Scenes
Portrayal
Luka Millfy is portrayed by Mao Ichimichi (市道 真央, Ichimichi Mao) who would later voice Raptor 283/Washi Pink in Uchu Sentai Kyuranger. Prior to the series, Ichimichi cited the team she wanted to become was Ohranger, mostly due to a scene where the females were dancing with the mechs. (actually due to her Ohranger equivalent, Juri Nijou/OhYellow)
When Luka and Don switched bodies in Ep. 27: An Unusual Gokai Change, Luka was portrayed by Kazuki Shimizu (清水 一希, Shimizu Kazuki).
As Gokai Yellow, her primary suit actor is Yuichi Hachisuka (蜂須賀 祐一, Hachisuka Yūichi), whose previous role was Gosei Pink in Tensou Sentai Goseiger and later served as suit actor for Yellow Buster in Tokumei Sentai Go-Busters. Her substitute suit actor is Sanae Hitomi (人見 早苗, Hitomi Sanae).
Design
In the Korean dub of Gokaiger entitled Power Rangers Captain Force, which aired in South Korea, Luka as with the rest of the first five Gokaigers keeps her name (likely because they are not from Earth and thus don't have normal Japanese names), while her Ranger designation is Captain Yellow.
Etymology
to be added
Ranger Key
The Gokai Yellow Ranger Key (ゴーカイイエローレンジャーキー, Gōkai Ierō Renjā Kī) is Luka's personal Ranger Key which allows her to transform into Gokai Yellow. Whereas the keys of the 34 Sentai were created out of the sacrifice of their powers in the Great Legend War, the origin of the Gokaiger Ranger Keys is unknown, though it can be assumed AkaRed had a role in their creation.
As with the other Gokaiger Ranger Keys, this key is commonly used in the Gokaigers' Ranger Key-compatible arsenal and mecha for different functions and attacks.
This Ranger Key was turned into a Ranger puppet once, by Basco. Along with the other Gokaigers bar an incapacitated Marvelous, Luka confronted and defeated the puppet Gokai Yellow.

TV STORY-Ep. 48: The Fated Showdown

Notes
Luka is the only Gokaiger who is not seen using the GokaiGalleon Buster.
She is the first ranger and character played by Mao Ichimichi, the second being Raptor 283. This is referenced in Kyuranger vs. Space Squad.
Appearances
See Also
External links
Interwiki
References