Cobra Kai Season 4 - The Loop
Play Sound
"Three! S.P.D. Green Ranger!"
―S.P.D. Green Ranger's roll call
Lina Song replaced Bridge Carson as the S.P.D. B-Squad Green Ranger in the HyperForce universe. She was later promoted to S.P.D. B-Squad Blue Ranger, with her former place being taken by J.J. Oliver.[1]
Biography
Early Career
Lina Song started as a S.P.D. member from the D-Squad division. She was a Detective at SPD's Earth Branch that later bumps into the Hyperforce Rangers while they were interrogating Adonis Washington and she was investigating a proton accelerator that was mysteriously stolen.

TV STORY-SPD Emergency
She would then assist the Hyperforce Rangers in scouting out Napolen Wrench's hideout and it would be later revealed that she was promoted, becoming a member of the B-Squad and donning the powers of the S.P.D. Green Ranger.

TV STORY-Power Rangers HyperForce
Soul of the Dragon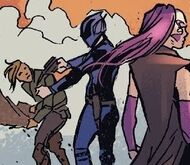 At some point Lina was promoted once again and became the new S.P.D. Blue Ranger of the B-Squad. Lina later joined with several Space Patrol Delta officers to assist Tommy Oliver in rescuing his son J.J. from the witch Scorpina, engaging her forces in a battle which saw Scorpina dragged back to the Talos Dimension by her master Lokar while the remaining gang members were taken into custody by the Blue Senturion and his fellow police officers.

COMIC STORY- Power Rangers: Soul of the Dragon

Personality
Ranger Powers

Zords
Arsenal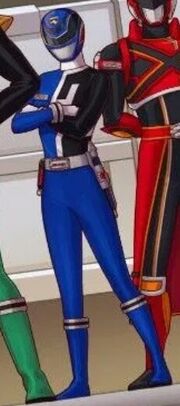 Zords
Arsenal
Portrayal
As with most NPCs in HyperForce, Lina Song is portrayed by Malika Lim.
Notes
The canonicity of HyperForce was in question within the community until the Fireside Chat for episode 18, according to Melissa Flores, Hyperforce takes place in its own universe, which includes elements from the main dimension and BOOMverse.[2]
Appearances
See Also
References