| | | |
| --- | --- | --- |
| | This article is about a/an character in the "Teenage Mutant Ninja Turtles" series. See entry below. | |
Leonardo/IDW appeared in Mighty Morphin Power Rangers/Teenage Mutant Ninja Turtles. See full entry of Leonardo (IDW) or Leonardo (MMPR/TMNT) at Turtlepedia.
"It's Morphin Time! Triceratops!"
―Leo's morph call
Leonardo is the leader of the Teenage Mutant Ninja Turtles and the Turtle Rangers.
History
to be added...

Ranger Form
Unmorphed
Arsenals
Blue Ranger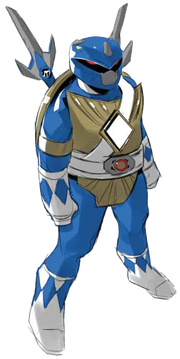 Arsenals
Power Blades
Turtle Shell
Zords
Appearances: MMPR/TMNT Issues 4 and 5

Behind the Scenes
Design
Leonardo's Blue Turtle Ranger outfit was design by Simone di Meo.

Notes
Appearances
See also
References