Would it not be wise to be more specific in your quest for knowledge?
This is a disambiguation page, which is not an article, but rather a list of articles with similar names. If a link within RangerWiki or the Tokupedia Hub brought you here, please consider editing that link to point to the specific article that it references.
"Hear our roar! The Fanged Brave, Kyoryu Red! (聞いて驚け!牙の勇者、キョウリュウレッド!

Kīte odoroke! Kiba no Yūsha, Kyōryū Reddo!

)"
―Kyoryu Red's roll call
"Hear our roar! The Fanged Brave, Kyoryu Red Carnival! (聞いて驚け!牙の勇者、キョウリュウレッドカーニバル!

Kīte odoroke! Kiba no Yūsha, Kyōryū Reddo Kānibaru!

)"
―Kyoryu Red Carnival's roll call
Kyoryu Red (キョウリュウレッド, Kyōryū Reddo, 強竜赤) is the Kyoryuger partner of Zyudenryu #1, Gabutyra, bearing the title of Fanged Brave (牙の勇者, Kiba no Yūsha). He's the leader of the Kyoryugers and the only one who has a Super Ranger form.
Kyoryu Red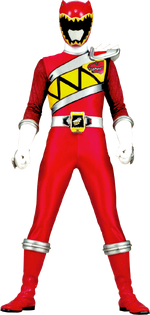 "Gaburincho: Gabutyra! (

ガブリンチョ ガブティラ!

Gaburincho: Gabutira

)"
―Transformation announcement
Arsenal
Mecha
Zyudenryu #1: Gabutyra (獣電竜1号 ガブティラ

Jūdenryū Ichi-gō: Gabutira

)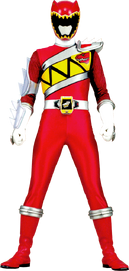 "Mecha Mucho! (

メッチャムチョ!

Metcha Mucho!

)"
―Transformation announcement
Armed On (アームドオン, Āmudo On) is Kyoryu Red's extension form which Daigo accessed by using two copies of the Gabutyra Zyudenchi in his Gaburivolver. Sporting spiky silver armor across his right arm, Armed On gives Kyoryu Red access to his Zyuden Arms weapon, the Gabutyra Fang.
When Dai-kun became the second Kyoryu Red in 2114, he required only one Gabutyra Zyudenchi to transform into this mode, bypassing his default form. Zyuden Sentai Kyoryuger: 100 YEARS AFTER
Alternatively, Kyoryu Red can use a Spirit Ranger version of the Plezuon Zyudenchi to arm himself with the Plezuon Rocket. Zyuden Sentai Kyoryuger: It's Here! Armed On Midsummer Festival!!
Arsenal
Zyudenchi:

1 - Gabutyra: Main battery-like device that is the source of Kyoryu Red's powers and is used to summon Gabutyra.
9 - Plezuon Spirit Ranger Purple ver.
Gaburu Armed On (ガブルアームドオン, Gaburu Āmudo On, "Gaburu" is a pun on "gabu" (to bite) and "Double" (daburu).) is a double-armed form of Armed On which Daigo accessed with the W Gabutyra Zyudenchi. Sporting spiky armor, now gold instead of silver, across both his arms, Kyoryu Red is armed with two Gabutyra Fangs. This form is exclusive to the movie Zyuden Sentai Kyoryuger: Gaburincho of Music.
Double Armed On's finishing technique is the Gabugabu Gabutyra Rock Bursting Rush (ガブガブガブティラ岩烈ラッシュ, Gabugabu Gabutira Ganretsu Rasshu), where Kyoryu Red throws jabs at breakneck speeds, ending with a powerful blow to the face.
Gaburu Armed On also appears in the mobile game Super Sentai Battle Base. As a bonus, new players who register through this link will get Kyoryu Red Double Armed Mode as their first character once the game is launched on Summer 2013. It has also been added to the arcade game Super Sentai Battle: Dice-O. Unlike Hyper Shinkenger which debuted in Shinkenger's movie, Double Armed On ultimately never appeared in the series itself.
Arsenal
Gabutyra Fang: Main Weapon.
Zyudenchi:

W - Double: Battery-like device that evolved from a Gabutyra battery and is used to access Double Armed Mode.
Deinosgrander (ディノスグランダー, Dinosugurandā) is a further extension of Armed On (normally used by Kyoryu Black) which Daigo accessed by using the Deinosgrander Zyudenchi. The Deinosgrander armor consists of double gold spike armors on both arms and claws on the hands in the stylized image of Deinosgrander's head, with the longer upper jaw acting as the left claw, and the smaller bottom jaw acting as the right claw.
When the Deinosgrander claws are clutched together and the Gaburivolver's trigger is pulled, the user can drill through layers of solid rock, as well as underground, in a fashion similar to the "death-roll" technique crocodilians use.
Arsenal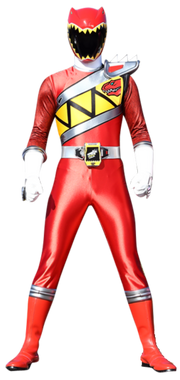 "Gaburincho: Gabutyra, Overcharge!"
―Transformation announcement
When Daigo as Kyoryu Red tried to power up with the Carnival Zyudenchi via his Gaburivolver, it accidentally caused him to turn into a Gabutyra Human (ガブティラ人間, Gabutira Ningen); essentially a were-dinosaur, a human that thinks and behaves as a dinosaur. In this form he is constantly in a tyrannosaur-like stance and possesses heightened senses and reflexes. His helmet also functions as a dinosaur's head would, with the mouth design behaving like an actual mouth when roaring or biting. This form is distinguishable from Daigo's normal form by his helmet's silver mouth plate becoming black. Brave 26: Surprise! GabutyraMan/Brave 27: O Matsurincho! Red's Super Evolution
Ranger Keys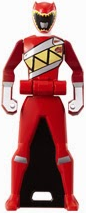 The Kyoryu Red Ranger Key (キョウリュウレッドレンジャーキー, Kyōryū Reddo Renjā Kī) is a Kyoryuger Ranger Key released as part of a set of thirteen Kyoryuger Ranger Keys in Bandai Premium. It is unknown if it will appear in a future crossover. Of course as with all Ranger Keys, should it exist, it would be able to transform one, i.e. Gokai Red, into Kyoryu Red. Super Sentai Hero Getter 2016

A Kyoryu Red Carnival Key (キョウリュウレッドカーニバルレンジャーキー, Kyōryū Reddo Kānibaru Kī) was also released. This makes Kyoryu Red the only Sentai hero to have an official Ranger Key of his Super Form made, as no such Ranger Keys appeared in either the toyline or in-series, not even when the Gokaigers transformed into past Super Rangers in their finale.
Notes
All Japanese variations of Kyoryu Red are portrayed by Ryo Ryusei, except of course Gokai Red.
Appearances
Community content is available under
CC-BY-SA
unless otherwise noted.