Line 375:
Line 375:
 

{{!}}-{{!}}

 

{{!}}-{{!}}

 

Noblesse=

 

Noblesse=

−

[[File:KSR-Noblesse RyusoulRed.jpg|thumb]]

+

[[File:.jpg|thumb]]

−

Using the [[Ryusoul Calibur]], Ryusoul Red gains a new form, with revised armor & a cape.

+

Using the [[Ryusoul Calibur]], Ryusoul Red gains a new form, with revised armor a cape.

 
 
 

'''Arsenal'''

 

'''Arsenal'''
---
Revision as of 01:17, 25 November 2019
"The Brave Knight! Ryusoul Red!"
―Ryusoul Red's roll call
"Behold a knight's chivalry!"
―Ryusoul Red's pre-battle catchphrase
"The Brave Knight! Max Ryusoul Red!"
―Max Ryusoul Red's roll call
Koh (コウ Kō) is Ryusoul Red (リュウソウレッド Ryūsō Reddo), the Red Ranger and a leader of the Ryusoulgers.[1] He is 209 years old. [2]
Character History
to be added
Personality
Koh is naive and more child-like than the other Ryusoulgers but is also very loyal to them. In addition, following a knight's code of conduct, he opts for the option with the least amount of innocent bloodshed, as opposed to Towa & Bamba during their first confrontation. A kind, friendly & outgoing young man, he always encourages his team to open up to each other. His valor pushes himself to fight the good fight, even when the odds are stacked against his team. As the Knight of Valor, his fighting style combines power with ferocity and focuses on overwhelming offense. His childlikeness also makes him extremely honest and straightforward, and is what enables him to correctly answer DimeVolcano's quiz.
Powers and Abilities
Ryusoul Tribesman Physiology

As member of Ryusoul tribes, he possessed these following abilities:

Longevity

Ryusoul tribespeople age very slowly and can live for hundred of years.
RyuSouls Clairaudience

Koh can hear the voice of Ancient Kishiryu inside RyuSouls and know what they think.
Forms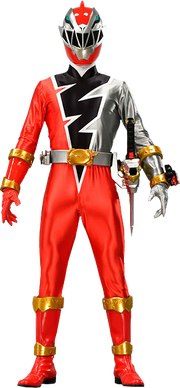 "Que bom! Wassei Wassei! Sou! Sou! Sou! Wassei Wassei! Sore sore sore sore! - Ryu So Cool! (laughing)"
―transformation announcement via Ryusoul Changer
Arsenal
Mecha
Attacks
Dino Slash (ディノスラッシュ Dino Surasshu): By inserting the spare Red RyuSoul in the Ryusoul Ken, Ryusoul Red gathers all of Tyramigo's power and executes an extremely powerful energy slash, that takes the form of Tyramigo's head, with the Ryusoul Ken.
Appearances
: Kishiryu Sentai Ryusoulger Episodes 1-22, 24-36, Kishiryu Sentai Ryusoulger The Movie: Time Slip! Dinosaur Panic!!
As an unexpected part of a plan to save
Nada
, the armor attempted to take over Koh's body, though the Ryusouolgers managed to hold off the armor pieces long enough for
Ptyramigo
to deliver the
Jack-o'-lantern Minosaur
. It promptly drained Gaisoulg's hatred and the armor was purified by the Minosaur's destruction.
Arsenal

Appearances: Ryusoulger Episodes 32
Ridewatch
"(Digital beeping) Kishiryu Sentai Ryusoulger!"
―Activation announcement
"The cool Sentai fighting with the power within the Ryusouls is...Yes, Ryusoulger! (リュウソウルでの力で戦うクールな戦隊は…そう、リュウソウジャー! Ryuusouru de no chikara de tatakau kūruna sentai wa...Sō, Ryuusoujā!)"
―Secondary activation announcement
"(Right-hand Ridewatch's announcement)! Armor Time! (Latin dance music) Ryu So Cool! Ryusoulger!"
―Transformation announcement in the Ziku-Driver's left-hand slot
"Finish Time! Ken Bom Time (Break/Burst)!"
―Finisher announcement in left-hand slot
Behind the Scenes
Portrayal
Notes
At 209 years old, Koh is the oldest main Red Ranger in Sentai history.

If the fact that Geki was born around 179-million years before 1992 is counted, Koh is the second oldest main Red Ranger.
His actor, Hayate Ichinose, was 21 years old at the time series started.

The red trail on the top of Koh's helmet is reminiscent of the plumes some medieval helmets had.
Koh's use of the MeraMera Soul is the first time an enhancement mode isn't initiated by either the primary changer or a separate changer used for such forms.
The Max Ryusoul Form and device carry similar elements to past upgrade forms or the arsenal of the team:
The Max Ryusoul Form is slightly remodeled from Gaisoulg (which Koh himself was host to beforehand), fittingly, as the reformatted armor manifested into the upgrade.
Appearances
References
↑ Cite error: Invalid <ref> tag; no text was provided for refs named rb
Community content is available under
CC-BY-SA
unless otherwise noted.