This article is about a/an series entry (the "43rd") in the Super Sentai series.
Kishiryu Sentai Ryusoulger (騎士竜戦隊リュウソウジャー, Kishiryū Sentai Ryūsōjā),[1][2][3] translated as Knight Dragon Squadron Dragon Armament Ranger, is the 43rd season of Super Sentai. It has a knights and dinosaurs theme.
On March 17, 2019, it replaced Kaitou Sentai Lupinranger VS Keisatsu Sentai Patranger and the 4 Week Continuous Special Super Sentai Strongest Battle!! and joined Kamen Rider Zi-O
as part of the Super Hero Time block. After Zi-O's finale, Kamen Rider Zero-One
joined Ryusoulger in the Super Hero Time block. On March 8, 2020, it was replaced by Mashin Sentai Kiramager as part of the Super Hero Time block.
In August 2019, the show was dubbed in South Korea as Power Rangers Dino Soul (파워레인저 다이노소울, Power Rangers Dino Soul).
Props and footage of Ryusoulger was used in its American adaptation Power Rangers Dino Fury, which premiered on February 20, 2021.[4] 
The average rating is 2.6%.[5]
Production
to be added
Plot
65 million years ago, the immensely powerful Warfare Tribe Druidon reigned over Earth. The tribe abandoned the planet when a gigantic meteor approached, vowing that they would return as the rulers of the world again as they headed into space.
The Ryusoul Tribe who battled against the Warfare Tribe Druidon stayed on Earth, along with their dinosaur companions, the Kishiryu. The Ryusoul Tribe withstood the ice age brought on by the gigantic meteor. They placed their Kishiryu companions into the RyuSouls and sealed them in temples throughout the world.
Time has moved on and the Warfare Tribe Druidon has returned after fighting in harsh environments across space, totally increasing their powers. The Ryusoul Tribe that kept the Earth safe in the past has selected new knights: the Ryusoulgers. They have been revived by their mission as the battle against the Warfare Tribe Druidon begins.
Characters
Ryusoulgers
Allies
Ryusoul Tribe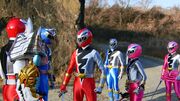 Kishiryu Allies
Civilians
Minor Allies
Villains
Arsenal
Transformation Devices/Sidearms
Multi-Use Devices
Individual Weapons and Team Weapon
Other Devices
Mecha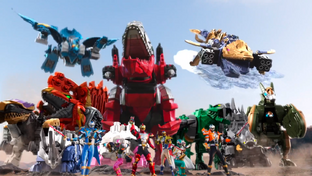 Kishryu System
Legend:◆ piloted mecha,  2-person mecha, ❖ auxiliary mecha
Auxillary
Additonal Formations
Episodes
Ryusoulger episodes have no special distinction, as they referred to just as Episode X (第X話, Dai-X-Wa). The last season to have this distinction was Doubutsu Sentai Zyuohger.
Movies
Specials
Kishiryu Sentai Ryusoulger Transformation Lessons (

騎士竜戦隊リュウソウジャー 変身講座

Kishiryū Sentai Ryuusoujā Henshin Koza

)
Secrets of the Ryusoulgers (

リュウソウジャーのひみつ

Ryuusoujā no himitsu

)
CD Dramas
Kishiryu Sentai Ryusoulger Final Live Tour 2020 Story CD (

騎士竜戦隊リュウソウジャーファイナルライブツアー2020ストーリーCD

Kishiryū Sentai Ryūsōjā Fainaru Raibu Tsuā 2020 sutōrī CD

)[8]
Cast
Suit Actors
Songs
Opening theme
"Kishiryu Sentai Ryusoulger" (

騎士竜戦隊リュウソウジャー

Kishiryū Sentai Ryūsōjā

)

Artist: Tomohiro Hatano (

幡野 智宏

Hatano Tomohiro

)
Lyrics: Mike Sugiyama (

マイク スギヤマ

Maiku Sugiyama

)
Composition: Kentaro Sonoda (

園田 健太郎

Sonoda Kentarō

)
Arrangement: Masato Koda (

甲田 雅人

Kōda Masato

)
Ending theme
"Que Boom! Ryusoulger" (

ケボーン!リュウソウジャー

Kebōn! Ryūsōjā

)

Artist: Sister MAYO
Lyrics: KOCHO
Composition: Kousuke Okui (

奥井 康介

Okui Kōsuke

)
Arrangement: Takeshi Nakatsuka (

中塚 武

Nakatsuka Takeshi

)
Mecha Themes
Insert Themes
Character Themes
Stage Shows
Video Release
Toyline
Video Games
Notes
The series and Sentai team name has wordplay in it, as "Ryusou" could mean "Dinosaur Armament" in English translation and Ryusoulger phonetically sounds like "Ryu Soldier"; "Ryu" means "dragon", so literally "Dragon Soldier".
As with Choujuu Sentai Liveman, the final Showa era series before it, Ryusoulger will be broadcast through two eras of Japanese history. However, while Liveman entered the Heisei era with the death of Emperor Hirohito on January 7, 1989, Ryusoulger entered the Reiwa era with the scheduled abdication of Emperor Akihito on April 30, 2019.
Like Shuriken Sentai Ninninger, this season's title has five kanji characters instead of the usual four that precede the team's name.
Ryusoulger is an oddity among the dinosaur-themed Sentai seasons as it is the second to air in the same decade; the previous one, Kyoryuger, premiered in 2013 while Ryusoulger premiered in 2019.
This is the first Korean-dubbed Super Sentai show to be aired on the same year as the respective Sentai show itself as Kyuranger's (Power Rangers Galaxy Force) successor, Kaitou Sentai Lupinranger VS Keisatsu Sentai Patranger has yet to be aired.
This is the first Sentai where the core rangers made their debuts in different shows.
It is the first Super Sentai series to have a Brown Ranger, although Ryusoul Brown is a repainted version of Gaisoulg.
This is the first time where all the rangers, living and dead, have some connection with their series main villian. Normally, only one ranger who has a connection with the series villain, such as being a former monster or general. In the Ryusoulger's case, their ancestors were all created by Eras.
This is the first Super Sentai show to both premiere and end in March.
This is the only dinosaur themed Sentai show so far to lack a brachiosaurus based mecha.
This is the only dinosaur themed Sentai show to lack a Pteranodon-themed Ranger.
This is the last season to have aired in the 2010's, with the following season, Mashin Sentai Kiramager, airing fully in the 2020's.
See Also
External links
References
Community content is available under
CC-BY-SA
unless otherwise noted.