King 7: Advent! The Commander of Neo Deboth! (강림! 네오 데보스군의 총재!, Ganglim! Neo Deboseugun-ui Chongjae!?) is the seventh episode of Power Rangers Dino Force Brave. It features the final appearance of Tsuraira.
Synopsis
Plot
The Kyoryugers discuss the turn of events with Juhyeok now a free agent when Torin senses a vast evil presence. The Kyoryugers find Juhyeok being attacked by Deizarus, who believes mercenary to be the Dragon King he has been hunting for. The Kyoryugers soon find themselves easily overpowered with Deizarus taking his leave once noticing Juhyeok ran off. Seeing Juyong in the dumps, Sechang confronts Juhyeok alone before they are ambushed by Tsuraira. Taking advantage of Juhyeok tossing his gold coins at Tsuraira, Sechang battles the Neo Deboth Army commander before Juhyeok intervenes as the other Kyoryugers arrive. As Juyong apologizes for worrying everyone, Juhyeok claims to have a contract with the Kyoryugers on the grounds that he will help them five times. The six Kyoryugers proceed to overpower Tsuraira before he enlarged and is destroyed by Brave Raiden Kyoryuzin. Soon after, to counter Deizaurus, Torin decides to free Giga Bragigas.
Cast
Korean cast
Japanese voice actors
Notes
In Japanese dub, the episode was renamed to Advent! I am Deizarus (

降臨!我こそデイザルス

Kōrin! Ware koso Deizarusu

).
DVD release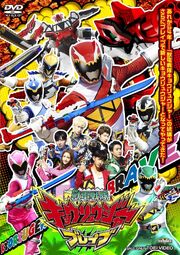 The complete Zyuden Sentai Kyoryuger Brave series was released on DVD in Japan on July 12th, 2017.[1]

References
Community content is available under
CC-BY-SA
unless otherwise noted.