King 2: Come on, New Warriors! (모여라, 새로운 전사들이여!, Moyeola, Saeloun Jeonsadeul-iyeo!?) is the second episode of Power Rangers Dino Force Brave. It features the full debut of Brave Green Dino and Brave Pink Dino, and the first apperanace of the Brave TyrannoKing Western. Juhyeok Kwon makes a brief appearance in this episode.
Synopsis
With Brave Red Dino, Brave Blue Dino & Brave Black Dino gathering, a New Kyoryuger Team is born. They are Power Rangers: Dino Force Brave. Canderilla & Luckyuro search the cities because there are possibilities of having more People with Strong Braves. Canderilla comes across a Gabby Modern Girl named Dohee Yun & Luckyuro comes across a Rich Boy named Pureun Lee who wants what he sees. Hyeonjun & others think that there are no possibilities of these two to be a Brave but...
Plot
After accepting Torin's request to become Kyoryugers, Juyong, Hyeonjun, and Sechang proceed to search the city from other Kyoryugers with Candelilla and Luckyuro. By chance, Candelilla and Luckyuro encounter bratty teens before they and the Kyoryugers find themselves under attack by the Neo Deboth Army member Arash who injured Candelilla. The Kyoryugers hold off the Zorima while Candelilla and Luckyuro find themselves being protected by the two bratty teens as they manage to overwhelm Arash when he may them lose their tempers. Noting them as Brave, Brave Kyoryu Red gives the two their own GabuGaburivolvers to become Brave Kyoryu Green and Brave Kyoryu Pink as they forced Arash into a counter before he summons a Bojinma to cover his escape. The three Kyoryugers then combine Guntyra with the new members' Zyudenryu Parasaser and Rapx to form Brave Kyoryuzin Western to destroy the Bojima, as a mysterious Kyoryuger watches. Later, after Pureun Lee and Dohee Yun formally introduce themselves, Torin assign Hyeonjun and Sechang as their mentors.
Cast
Korean cast
Japanese voice actors
Notes
In Japanese dub, the episode was renamed to Gather! New Warriors (

集まれ!新たな戦士たち

Atsumare! Arata na Senshi-tachi

).
DVD release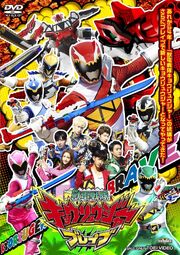 The complete Zyuden Sentai Kyoryuger Brave series was released on DVD in Japan on July 12th, 2017.[1]

References
Community content is available under
CC-BY-SA
unless otherwise noted.