Kihachirō Uemura (植村 喜八郎, Uemura Kihachirō) played Dai (Green Flash) in Choushinsei Flashman. He later reprised his role in episode 49 of Kaizoku Sentai Gokaiger.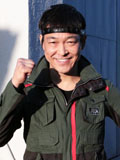 Having played a
tokusatsu
hero, he decided he could help others in his everyday life, and he has been practicing his CPA skills and has been acting as a volunteer instructor of First Aid for locals. According to Yomiuri Online, Kihachiro Uemura, then 51, will be receiving a letter of Appreciation from Kanda Fire Department in Tokyo on July 12, 2012 for saving an elderly man in cardiac or reparatory arrest at JR Akiba Station. Mr. Umemura provided cardiopulmonary resuscitation with AED at the station and saved his life.
[1]
External links
References
Community content is available under
CC-BY-SA
unless otherwise noted.