"This is the distant howling of a beaten dog!"

―Final words before Death
Kerbero Gangan (ケルベーロ・ガンガン, Kerubēro Gangan) is a Wolf-themed Gangler Monster from the Interdimensional Crime Group Gangler, equipped with the "These walls/Ces murs" piece from the Lupin Collection.
Character History
to be added
Personality
Kerbero is overly obessed and infatuated with firearms of any kind.
Powers and Abilities
Wall Creation: Due to the "These walls/Ces murs" Lupin Collection equipped in his safe, Kerbero can create walls from the ground.
Oxygen Manipulation: Kerbero can alter the oxygen levels in the environment to enhance the power of the gunpowder in his shots.
Enhanced Smell: Through the dog skull on his right shoulder, Kerbero can pick up the scents of firearms. The dog head also has a mind of it's own, and can use Kerbero's body as part of it's mind.
Arsenal
Kerther P-38 (ケルサーP-38 Kerusā Pī Sanjū-hachi): Kerbero's three-barreled handgun.
Behind the Scenes
Portrayal
Profile
Height: 191 cm (Giant: 47.8 m)
Weight: 206 kg (Giant: 515.0 kg)
Criminal Record: Firearms Theft
Lupin Collection: "These walls/Ces murs" Moai Facial Image
Gangler Safe Location: Left portion of torso (Heart position)
Password: 1-0-1
Notes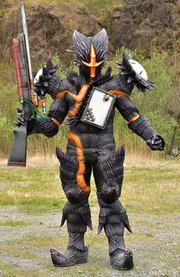 Thumb
thumb|concept art
Animal Theme: Kerberos and Wolf
Possible Prehistoric Basis: Dire Wolf
Kerbero Gangan's suit contains elements of Togeno Aves's suit.
He is the first Gangler monster to be destroyed by the Lupin Magnum.
References
Community content is available under
CC-BY-SA
unless otherwise noted.