Karakuri Kyuubi (カラクリキュウビ, Karakuri Kyūbi) is Kyuemon Izayoi's personal mecha shaped in his likeness, equivalent to the Ninningers' OtomoNin.
Cockpit
Powers and abilities
Having been implanted with the Core Gear (コア歯車 Koa Haguruma) from the four Izayoi Way Ninjas, the Karakuri Kyuubi is protected from being damaged by the mecha that destroyed them.
Arsenal
Armed with a sword, it is capable of summoning nine flying Kogitsune (子狐) drones used for the Kogitsune Dance (子狐乱舞 Kogitsune Ranbu) attack.
Behind the scenes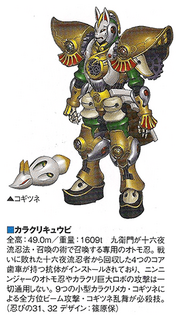 Appearances
See Also
External links
Community content is available under
CC-BY-SA
unless otherwise noted.