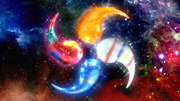 The Kanaema Stones (カナエマストーン, Kanaema Sutōn, lit. "Wish-Granter Stones") are mysterious jewels resembling Magatama, and only four of them exist in the universe. Each stone can grant a specific kind of wish, but all of them combined can grant any wish with no limitation. However, if the powers have been used up, they turn black, though they will shine again after a few days.
Takamichi Crystalia was originally trying to collect these to save his sister, Mabushina, from the Yodonheim curse that killed her mother, Queen Mabayuine, but now that Mabushina was cured by Mashin Zabyun, he continues searching for them before using the ultimate wish to rebuild Crystalia, with Mabushina being crowned queen.
List of Kanaema Stones[1]
Appearances
Notes
References
Community content is available under
CC-BY-SA
unless otherwise noted.