Kamira is a Space Beast of the Great Star League Gozma.
Character History
An alien starfish used to protect a cave the Gozma use to cause a negative chain reaction between Earth and a set of interstellar rocks that would cause the Earth to burn and become inhabitable a few hours after initial encounter with the planet. Possesses electrical abilities and the ability to take control of other humans and turn them into starfish minions that it can control. After locating the cave, the Changeman deal with Kamina, first with Change Pegasus fighting it alone (with the others fighting the Gozma leaders), then with the team destroying it with the Power Bazooka. After being rebuilt and grown by Gyodai, the Changeman deal with him with their individual vehicles while destroying the seal for the cave before finishing it off with Change Robo. It's last remnants remain in the starfish minions, which the Changeman change back to humans with their Dengeki Flash.Dengeki Sentai Changeman: The Movie
Personality
to be added
Modus and Arsenal
Notes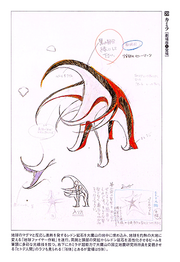 Portrayal
Behind the Scenes
References
Community content is available under
CC-BY-SA
unless otherwise noted.