Wiki Targeted (Entertainment)
Play Sound
"Very impressive Doggie Kruger. To defeat you so easily would be boring. The scar you gave me is throbbing... You made me lose everything in life."
―Ben G when confronting Doggie for their final battle after the latter saw a deliberately missed lightning blast.
"What?! Damn you!"
―Ben G after Doggie deflected his bullet at Swan to release her from a bomb belt and his final words before his deletion.
Kajimerian Ben G (カジメリ星人ベン・G, Kajimeri Seijin Ben G, 13, Dekaranger vs. Abaranger):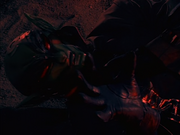 History
An Alienizer from the planet Kajimeri, Ben G swore revenge on Doggie Kruger for his near-death experience during a chase from the Anubinoid. The chase ended when he was distracted looking back at Doggie, making him crash into a building and nearly killing him. Though he barely survived, he was forced him to undergo massive undergoing cybernetic modifications to his body so as not to be a vegitable. Gone insane, he decided to destroy the Special Police Dekaranger as well so employed the services of Agent Abrella and had a Batsuroid pilot the 1st version of Heavy Industrial Machine Terrible Terror to keep the Dekarangers at bay by threatening to obliterate the city with an earthquake. He kidnapped Swan Shiratori and criticallyh damaged Murphy to force Doggie into a confrontation at the quarry where he sicked 100 Anaroids on him. Although Doggie easily wiped them out as Dekamaster, Ben G gained the upper hand and tried to excecute him with a bullet from his arm riffle. However, he deflected it at Swan and destroyed the fuse to the dynamite strapped to her which saved her. As the Dekarangers finished off Terrible Terror, DekaMaster charged and overwhelmed Ben G before taking him down with a energy slash to the middle. As the Dekarangers watched on from the sidelines, DekaMaster judged Kajimerian Ben G for the crimes of mass murder through interplanetary landsharking and kidnapping an SPD official. Ben G was found guilty almost immediately and was subsequently deleted by the D-Sword Vega's Vega Slash right through the waist. As the Dekarangers came down from the cliff-side, Ben G's cybernetics spewed sparks as he writhed before letting out one final shriek and falling on his back where he exploded, this time for good.

TV STORY-Episode 13: High Noon Dogfight
Ben G is briefly resurrected alongside Barigean Milibar and Reversian Bon-Goblin Hells by Ginjifuan Kazak to gather energy for a ritual to resurrect Wicked Life God Dezumozorlya. He was unable to speak properly like the other resurrected Alienizers and was deleted for good by DekaMaster three charged slashes from the D-Sword Vega.

TV STORY-Tokusou Sentai Dekaranger vs. Abaranger
Personality
to be added
Modus and Arsenal
Notes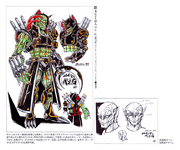 Portrayal
Behind the Scenes
His home planet is named after actress Meiko Kaji (

梶 芽衣子

Kaji Meiko

).
His name is derived from the English word "revenge".
Conception
Crimes
Kidnapping
Genocide
Attempted Murder
Terrorism
Torture
Mass Murder
Landsharking of thirteen planets
External Links
See Also
References
Community content is available under
CC-BY-SA
unless otherwise noted.