| | |
| --- | --- |
| | This article is about a/an series entry (the 35th) in the Super Sentai series. |
Kaizoku Sentai Gokaiger (海賊戦隊ゴーカイジャー, Kaizoku Sentai Gōkaijā, translated into English as Pirate Squadron Heroic Ranger) is the 35th season of the Super Sentai series and celebrates the 35th Anniversary of the franchise. It premiered on TV Asahi February 13, 2011, joining Kamen Rider OOO

and Kamen Rider Fourze

as programs featured on TV Asahi's "Super Hero Time" programming block. The season's motif is pirates and follows the story of five young space pirates in search of the "Greatest Treasure in the Universe".
Its footage and anniversary theme was then adapted into the second season of the 20th Anniversary Power Rangers season, Power Rangers Megaforce, the 2014 Power Rangers Series Power Rangers Super Megaforce.
Development
For the 35th Sentai series, Toei decided to go big with a major series that acknowledged the past while developing a something new and interesting. Following on their success of Kamen Rider Decade

which crossed over elements and concepts of the 9 previous Heisei Riders as well as matters throughout franchise history, they devised a series where similar concepts and cameos would emerge, officially in-canon uniting the Super Sentai timelines (As had been happening in the Versus movies for many years) to permit a team of Sentai heroes used the powers of the previous 34 teams, using the idea that they were aliens who had no idea about the Sentai legacy and their powers were "pirated" versions of all the other teams.
The original intent was to have only teams who were going to give a notable power that would help the Gokaigers appear in cameo, most notably the previous four teams and several other notable teams, as well as a film with several others appearing in cameo. However, the tragedy of the 2011 Tohoku Earthquake on March 11, 2011 lead to a major outcry to create a series which helped people cope with the tragedies and inspire hope to all people. After one weird fluke, Sentai alumni appeared in many of the episodes in response, unexpectedly leading to changes of story preventing more character development but ultimately letting one actor from all 34 previous series appear throughout the entire series' run.
Plot
"The 34 Super Sentai who have protected the smiles of the people! They lost their powers fighting the Space Empire Zangyack, but their powers have been inherited by these unbelievable rogues!"

―Narrator
"These youths travel the great seas of space searching for adventure and romance. They revolt against Space Empire Zangyack. These hearty fellows proudly bear the pirate name! And their name is..."

―Narrator
The Gokaigers use the "lost" powers of the 34 previous Super Sentai teams to fight the evil Universal Empire Zangyack, whose first wave of invasion forces were completely defeated by the older teams until they arrive with reinforcements and invade the Earth once more, and they must visit the past 34 teams to obtain more power to fight against the ever-determined Zangyack.
As they continue collecting more Greater Powers, the Gokai Crew run into Marvelous' ex-crew mate, Basco, who is also looking for the Greatest Treasure in the Universe, but he wants it all for himself. To that end, he betrayed his old crew and joined up with the Zangyack. He opposes the Gokaigers with his own set of Rangers Keys and his partner Sally, a monkey-like alien who can summon Giant Battle Pseudo-Lifeforms.
Eventually, Gai Ikari, an Earthling, joins the crew as the newest Gokaiger, Gokai Silver, after obtaining his gear from three former Sentai heroes (Burai, Naoto Takizawa and Mikoto Nakadai) and proving himself worthy of being a Gokaiger. As a Sentai Fanboy, his knowledge of past Super Sentai teams aids the Gokaigers in their fight against the Zangyack Empire and Basco.
Characters
Gokaigers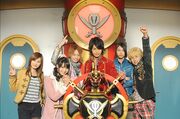 Allies
Legends (In order of appearance, including films)
Temporary Gokaigers
Action Commanders
The action commanders are alien monsters that the Zangyack send to lead their Gormin forces.
Zangyack Mecha
Other Villains
Arsenal
Transformation Devices
Multi-Use Devices
Sidearms
Team Cannons
Mecha
Gokai Machine System
Legend:◆ piloted mecha, ❖ aux mecha
Episodes
For the first time since Bakuryuu Sentai Abaranger, the episodes of this season have no special distinction and are merely "episodes" (although Tokusou Sentai Dekaranger also referred to episodes as "episodes", they spelled out the entire word in English and had a period at the end, thus making them "Episode."). However, just like in Kamen Rider Decade, episodes that are tributes to the previous Sentai teams will have episode titles similar to that particular season of Sentai (i.e. the Magiranger episode had a Magitopia spell in it, and the Dekaranger episode title was written in English).
Movies
Special DVD
Kaizoku Sentai Gokaiger: Let's Do This Goldenly! Roughly! 36 Round Gokai Change!! (

海賊戦隊ゴーカイジャー キンキンに!ド派手に行くぜ!36段ゴーカイチェンジ!!

Kaizoku Sentai Gōkaijā Kin Kin ni! Dohade ni Ikuze! Sanjūroku Dan Gōkai Chenji

)
Cast
Guest stars
Suit actors
A total of 182 suit actors playing the past 34 Super Sentai teams were involved in the Legendary Great War scene that was shown in both the first episode and Gokaiger Goseiger Super Sentai 199 Hero Great Battle. During filming, the suit actors consist of several suit actors who are members of Japan Action Enterprises, Red Entertainment Deliver and Stunt Japan, as well as stage show actors from all across Japan.
Songs
Opening theme
"Kaizoku Sentai Gokaiger" (

海賊戦隊ゴーカイジャー

Kaizoku Sentai Gōkaijā

)

Lyrics: Yuho Iwasato
Composition: Yūsuke Mochida (持田 裕輔 Mochida Yūsuke?)
Arrangement: Project.R (Hiroaki Kagoshima)
Artist: Tsuyoshi Matsubara (Project.R) with Young Fresh (Project.R)
Ending theme
"Super Sentai Hero Getter" (

スーパー戦隊 ヒーローゲッター

Sūpā Sentai Hīrō Gettā

)

Lyrics: Shoko Fujibayashi & Naruhisa Arakawa
Composition: Kenichiro Ōishi
Arrangement: Project.R (Kenichiro Ōishi)
Artist: Project.R
Insert theme
"Kaizoku Gattai! Gokai-Oh" (

海賊合体! ゴーカイオー

Kaizoku Gattai! Gōkaiō

, Pirate Combination! Gokai-Oh)

Lyrics: Yoffy
Composition: Kosuke Yamashita
Arrangement: Kenichiro Oishi
Artist: Psychic Lover
Inserted into episodes 10-13, 32, 45
"Gokai Zenkai Dash!!" (

豪快全開ダッシュ!!

Gōkai Zenkai Dasshu!!

, "A Hearty Full Sail Dash!!")

Lyrics, Composition, Arrangement & Artist: Takayoshi Tanimoto
Inserted into episodes 11, 24, 40, 45
"Hagane no Kokoro Gokai Silver" (

鋼の心 ゴーカイシルバー

Hagane no Kokoro Gōkaishirubā

, "Heart of Steel, Gokai Silver")

Lyrics: Shoko Fujibayashi
Composition: Kosuke Yamashita
Arrangement: Morihiro Suzuki
Artist: Hideyuki Takahashi
Inserted into episodes 17, 40
"Kansei! GoZyuJin (

完成! 豪獣神

Kansei! Gōjūjin

, "Complete! GoZyuJin")

Lyrics: Shoko Fujibayashi
Composition: Kosuke Yamashita
Arrangement: Koichiro Kameyama
Artist: NoB
Inserted into episodes 18, 40
"Otakara Wo Sagase!" (

お宝を探せ!

"Find the Treasure!")

Lyrics: Shoko Fujibayashi
Composition: Kosuke Yamashita
Arrangement: Hiroshi Akira
Artist: Z Hata
Inserted into episodes 22, 35, 44-45
"Pirates Girls" (

パイレーツ・ガールズ

Pairētsu Gāruzu

)

Lyrics: Inoue Nozomi
Composition & Arrangement: Takafumi Iwasaki
Artist: Project.R
Inserted into episodes 34, 41
KANZEN TREASURE ("Perfect Treasure")

Lyrics: Saburo Yatsude
Composition & Arrangement: Chuumei Watanabe
Artist: Ichiro Mizuki
Inserted into episodes 39, 44
"Tsuwamono-Tachi ~Uchū Kaizoku no Theme~ (

"

海賊(つわもの)たち〜宇宙海賊のテーマ〜

) "Tough Guys ~Theme of the Space Pirates~

Lyrics: Hideaki Takatori
Composition & Arrangement: Morihiro Suzuki
Artist: Takayuki Miyauchi
Inserted into episodes 43
The series' ending theme "Super Sentai Hero Getter" lists off all of the Super Sentai series, making reference to their songs and motifs, with each of the three verses of the song being played in rotation. The first verse covers Himitsu Sentai Gorenger through Choujuu Sentai Liveman, which all aired in the Shōwa period; the second covers Kousoku Sentai Turboranger through Mirai Sentai Timeranger, which all aired through the remainder of the 20th century; and the last one covers Hyakujuu Sentai Gaoranger through Tensou Sentai Goseiger, which were all broadcast in the 21st century. The song is remixed into "Super Sentai Hero Getter ~ 199 ver." from their first team-up movie (eliminating all but one of the choruses) and then "Super Sentai Hero Getter ~Now & Forever Ver.~" in the final episode, the latter remix covering Gokaiger and Tokumei Sentai Go-Busters.
Soundtracks
Kaizoku Sentai Gokaiger also has soundtracks based on the show.
Kaizoku Sentai Gokaiger Single - The official single to the TV show featuring the opening theme, the ending theme, and the karaoke version of the songs. At the end of episode 4, the Gokaigers had a special promotion for the thirty viewers.
Kaizoku Sentai Gokaiger Original Album Treasure Sound Box 1 - The first original soundtrack to the TV series featuring 31 songs from the show including: Gokai Change!, the TV size version of the opening theme, and more.
International broadcasts
Kaizoku Sentai Gokaiger began airing in South Korea on July 2012 as Power Rangers Captain Force.[1][2] It also began airing in Hong Kong on March 2013 It also began airing in Taiwan on September 2013.[3]
Stage Shows
Bounties
| | | | | | | |
| --- | --- | --- | --- | --- | --- | --- |
| Captain Marvelous | 1,000,000 | 1,500,000 | 3,000,000 | 5,000,000 | UNLIMITED | |
| Joe Gibken | 500,000 | 1,000,000 | 2,000,000 | 4,000,000 | 8,000,000 | |
| Luka Millfy | 100,000 | 300,000 | 750,000 | 1,500,000 | 3,000,000 | |
| Don Dogoier | | 100 | 1,000 | 5,000 | 10,000 | 300,000 |
| Ahim de Famille | | 500,000 | 1,000,000 | 2,000,000 | 4,000,000 | |
| Gai Ikari | | | | 100,000 | 300,000 | |
| Navi | | | | | | 50 |
Notes
The ending theme, Super Sentai Hero Getter, is an updated version of the 25th Anniversary theme, Super Sentai Tamashii. The former introduces Gorenger through Gokaiger, while the latter introduced Gorenger through Gaoranger. Also in the ending theme, the singers who originally sang for the more recent Sentai series' opening theme rap the series' line. E.g.: Yoffy of Psychic Lover rapping Dekaranger, Iwaki rapping Magiranger, NoB rapping Boukenger etc.
This is the first season to feature the Sixth Ranger in the end of Opening theme to stand as formation with the core team.
Kaizoku Sentai Gokaiger is the first Super Sentai since 2002s Ninpuu Sentai Hurricaneger to have more than 50 episodes.
This season officially acknowledges the "Vs. Movies", where several cross-over characters and concepts reemerge in the series, as being fully Canon to their related sentai. Many of these films have been treated as such by Toei in the context of them being a sequel or epilogue event to their related Sentai on top of the crossover, but due to continuity errors many like to disregard That possibility. However, This would set a precedent followed up on with the following Versus Films made.
During most tribute episodes, when the Gokaigers transform into the respective team an instrumental version of that team's opening theme is played. The tribute episodes for Gekiranger, Jetman (Gai did sing a bit of the Jetman theme), Ohranger (the theme used for change in Ohranger is a Ohranger's theme, but not Ohranger's opening theme), and Battle Fever J (it was already used once before) are the only exceptions to this.
This is the first series to feature a Christmas themed Ranger (Gokai Christmas). However, this was only an alternate form of one of the Rangers.
The main cast for this season have appeared in more movies than any other season. The Gokaigers first debuted in Tensou Sentai Goseiger vs. Shinkenger: Epic on Ginmaku, and then appeared in the VS movie Gokaiger Goseiger Super Sentai 199 Hero Great Battle, their own movie Kaizoku Sentai Gokaiger the Movie: The Flying Ghost Ship, the first cross-franchise movie Kaizoku Sentai Gokaiger vs. Space Sheriff Gavan: The Movie, and appeared in the second cross-franchise movie Kamen Rider × Super Sentai: Super Hero Taisen.
The 5 core Gokaigers share many similarities to the 5 Gorengers:
This is the first Sentai series to have a pirate ship as a mech.
Nearly every major Sentai color was used for a tribute episode except for Green. Although three Green Legends appeared in the series, none of them were in a true tribute:
During the transformation sequence the roman numeral for 35 is seen "XXXV".
According to an interview, the number of returning legends in Gokaiger were not going to extend to the entire scope of the franchise. In the original plan, only series who were going to give mecha or mecha formations were going to have major focus and cameos, which would have made the Legends only extend to every series from Gaoranger to Goseiger. Surprisingly, Gekiranger was part of this group (even though their Greater Power did not necessarily have a mech), but Boukenger was not included, nor was any series prior to Gaoranger.
Gokaiger is the second Sentai series in which it's footage is also used for the season of Power Rangers before it's respective adaptation. Footage of the Legend War is used in Power Rangers Megaforce. However, Gokaiger's Power Rangers counterpart is Power Rangers Super Megaforce. The first time this happened was in Chase Into Space, the finale to Power Rangers Turbo, in which footage of the Mega Shuttle is seen.
This is the first season where all rangers debut in a movie, as the main 5 made their debut in Tensou Sentai Goseiger vs. Shinkenger: Epic on Ginmaku and Gokai Silver made his debut in Gokaiger Goseiger Super Sentai 199 Hero Great Battle.
This is the second season where past Rangers appear in an episode, and not in a movie, the first being Turboranger. However, unlike Turboranger, the past Rangers appear frequently as opposed to just in one episode.
This is the first series to get a Blu-Ray release.
For April Fools Day 2012, RangerCrew made the "announcement" of "Mighty Morphin' Pirate Rangers", which claimed to be the Power Rangers 20th Anniversary adaptation of Kaizoku Sentai Gokaiger, as well as featuring Justin Stewart (Blue Turbo Ranger) as the mentor of the "new team".
Some of the computers used by Space Empire Zangyack uses the LCARS style look from Star Trek: The Next Generation.
Official websites
References
Community content is available under
CC-BY-SA
unless otherwise noted.