| | |
| --- | --- |
| | This article is about a/an series entry (the "42nd") in the Super Sentai series. |
| | |
| --- | --- |
| | WARNING: This series contains scenes of drug material, occasional alcoholic drinking, blood, gun violence and gambling. Viewer discretion is advised! |
Kaitou Sentai Lupinranger VS Keisatsu Sentai Patranger (快盗戦隊ルパンレンジャー VS 警察戦隊パトレンジャー, Kaitō Sentai Rupanrenjā Bui Esu Keisatsu Sentai Patorenjā), translated as Phantom Thief Squadron Lupinranger VS Police Squadron Patranger, is the 42nd entry in the Super Sentai franchise. It joined Kamen Rider Build

on the Super Hero Time block on February 11, 2018, replacing Uchu Sentai Kyuranger. After Build's finale, Kamen Rider Zi-O

joined Lupinranger VS Patranger on the Super Hero Time block. It ended on February 10, 2019 and was replaced by the 4 Week Continuous Special Super Sentai Strongest Battle!! and later Kishiryu Sentai Ryusoulger in March 2019 as part of the Super Hero Time block.
It has a "cops and robbers" type of theme focusing on two competing Super Sentai teams, with one a police force and the other being a band of thieves.
The average ratings of the series was 3%.
Production
to be added
Plot
"The Lupin Collection, a set of mysterious treasures gathered by the legendary phantom thief Arsène Lupin, has been stolen by the Ganglers! The phantom thieves who fight to recover what they've lost. The police force who fight to protect world peace. Whose side are you on?!"
―Narrator
Gathered throughout his lifetime, the gentleman thief Arsène Lupin assembled a vast collection of dangerous items known as the "
Lupin Collection
". When this collection is stolen by interspace invaders known as the Gangler, two teams set out to retrieve it! Kaitou Sentai Lupinranger, who desire to live up to Lupin's name, aim at stealing back the collection from the Gangler. While Keisatsu Sentai Patranger, who hope to uphold justice, aim to retrieve the collection and take down the Gangler! With two rival teams confronting each other for the same goal, just who will emerge victorious?
Characters
Rangers
Lupinrangers
Patrangers | G.S.P.O. Tactical Unit[1]
Allies
Lupinranger Allies
Patranger Allies
Other
Villains
Arsenal
Transformation Devices
Individual Weapons and Team Weapon
Side Arms
---
Transformation Devices
Individual Weapons and Team Weapon
Side Arms
Mecha
Main
Legend:◆ piloted mecha,  2-person mecha, ❖ auxiliary mecha
Auxillary
Lupinranger
Patranger
Toy-Exclusive
Lupinranger
Patranger
Alternate Combinations
Lupinranger
Patranger
Episodes
The episodes in this Sentai season are referred to as Number (stylized as #(number) (i.e. #1, #2, etc.)).
Movies
Kaitou Sentai Lupinranger VS Keisatsu Sentai Patranger en Film (

快盗戦隊ルパンレンジャーVS警察戦隊パトレンジャー en film

Kaitō Sentai Rupanrenjā Bui Esu Keisatsu Sentai Patorenjā An Firumu

)
Lupinranger VS Patranger VS Kyuranger (

ルパンレンジャーVSパトレンジャーVSキュウレンジャー

Rupanrenjā Bui Esu Patorenjā Bui Esu Kyuurenjā

)[11]
Specials
CD Dramas
Live Shows
Kaitou Sentai Lupinranger VS Keisatsu Sentai Patranger Final Live Tour 2019 (

快盗戦隊ルパンレンジャー VS 警察戦隊パトレンジャー ファイナルライブツアー2019

Kaitō Sentai Rupanrenjā VS Keisatsu Sentai Patorenjā Final Live Tour 2019

)
Songs
Opening theme
Ending theme
Insert themes
Mecha themes
Character themes
Cast
Suit Actors
Stage Shows
Video Release
Toyline
Video Games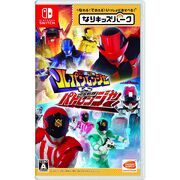 Bandai Namco Games released Nari Kids Park: Kaitou Sentai Lupinranger VS Keisatsu Sentai Patranger  as part of their Nari Kids Park range of games for the Nintendo Switch console. It was released on November 21st, 2018 in Japan for 4,800 yen. The concept for the game was that it was "digital transformation and play," where players can "become," "meet," and "play together with" the heroes and heroines they see on TV.[13] The game features several mini-games where players can play as the core Lupinrangers and Patrangers; clips and pictures from the show; and 2-player co-op locally. It was released alongside Nari Kids Park game for Ultraman R/B and HUGtto! Pretty Cure. The game entered the sales charts at #36.[14]

Notes
怪盗 (

Kaitou

) is the Japanese word for "phantom thief" or "gentlemen thief".
警察 (

Keisatsu

) is the Japanese word for "police", "police department" or "police force".
This certain Sentai series has a whole lot of firsts and returning trends as it call Kamen Rider Lupin VS Kamen Rider Drive (Police Shinnosuke Tomari).
This Sunday For April 2019 Phantom Thief Trump Cards secrets and justice VS The Evil Police Reverse World (Secret x Heroine Phantomirage!)

is the first season since Samurai Sentai Shinkenger to not have a pre-series cameo.
is the first season since Zyuden Sentai Kyoryuger to not feature a mecha battle in the first episode and to not have a Spring Crossover with a co-airing Kamen Rider series.
is the first season since Taiyo Sentai Sun Vulcan to not have a show's title announced at the beginning of the show's opening sequence.
is the first Sentai Season to have 2 Red Rangers at the start, as opposed to having only one core Red Ranger.
is the first Sentai series to have one person as two 6th Rangers for different teams at once.
is the first Sentai to have more than one Collectible Gimmick/Mecha System: the Dial Fighters for the Lupinranger, the Trigger Machines for the Patranger, and the X Trains used by Noël Takao.

This is similar to its Super Hero Time partner Kamen Rider Build with the Fullbottles, Sclashjellies, Gears, and Evolbottles.

is the first to feature a Sentai team without a Blue & Yellow Ranger, in the case of the Patrangers.
is the first permanent heroes vs. heroes team-up in the main TV broadcasting, which is not crossover team-up spin-off related (which is commonly on movies and certain main TV broadcast episodes), unlike a Super Sentai anniversary crossover-based TV series Kaizoku Sentai Gokaiger.
is the first Sentai to feature no new villains, either as generals or a separate force.
is the first season since Tokumei Sentai Go-Busters to have 50 episodes or more, the season features 51 episodes, an episode count that the previous 5 seasons never reached.

Patranger is the third police themed Sentai team, after Mirai Sentai Timeranger and Tokusou Sentai Dekaranger.
Lupinranger's name contains a reference to Arsène Lupin, a fictional gentleman thief and master of disguise created by French writer Maurice Leblanc, and also to Arsène Lupin III, a fictional character created by Monkey Punch and the protagonist of Lupin the Third manga series.

In an ironic note, Arsène teamed up with Jimmy Kudo (Shinichi Kudo), who was from Case Closed (Detective Conan), a detective-themed anime. Although the phantom thief and detective-themed team up in the shared universe already been seen first time in Gosho Aoyama's shared anime universe, namely Jimmy Kudo teaming up with Kaito Kid the protagonist of Magic Kaito in most part, with few cameos from Aoyama's 3rd known shared universe series, the samurai-themed anime Yaiba.

This series was the final Sentai series, aside from Super Sentai Strongest Battle, to have a full televised run in the Heisei Era; Kishiryu Sentai Ryusoulger will be in a similar position to Choujuu Sentai Liveman in that it will run during the transition of reigning emperors. Emperor Akihito will abdicate the throne on April 30, 2019[15] to his son Prince Naruhito, thus beginning the Reiwa era of Japan.
This is the first Sentai since Samurai Sentai Shinkenger to be skipped in South Korea.
Each teams core members' names are based on what Sentai they are on:

Lupinranger's Kaitou: Kairi, Tooma, Umika
Patranger's Keisatsu: Keiichiro, Sakuya, Tsukasa

An interview with Gregory Mitchell by TokuNation revealed the 2018 Sentai was originally going to be flight-based. [16]
Lupinranger VS Patranger shares some similarities with its Superhero Time partner Kamen Rider Build.
The Patranger (Rescue Police) Kamen Rider G3 & Kamen Rider G Den-O & Kamen Rider Delta .

The heroes of both shows were labeled as outlaws.

The Lupinranger are wanted Phantom Thieves.
During the start of the show Ryuga Banjou/Kamen Rider Cross-Z was wanted for a murder he didn't commit and Sento Kiryu/Kamen Rider Build became a fugitive after helping Ryuga escape, then all the protagonist Riders become fugitives due to the antagonist's plot.

The Blue colored heroes of both series had their lovers killed in front of them by a member of the Villain Factions that they face prior obtaining their powers. Said deaths were the main motivation of both heroes to recieve their powers and fight the Villain Factions.

Tooma's fiancée Aya Ohira was frozen and "killed" by Zamigo Delma.
Ryuga's fiancée Kasumi Ogura died due to her exposition to the Nebula Gas done under Blood Stalk's orders.

Characters from both Shows have gun-based transformation devices that require to insert certain collectibles to activate the transformation function.

VS Changers for the Lupinrangers and the Patrangers
Transteam Gun for Night Rogue and Blood Stalk
Nebulasteam Gun for the Kaisers.

Heroes from both shows require the monsters they fight alive to obtain the collectibles in their respective shows.

The Lupinranger cannot kill the Gangler Monsters they fight until they retrieve a Lupin Collection piece from the safe located somewhere on its body.
Sento Kiryu cannot kill the Smash as they are humans infected with Nebula Gas but is able to cure the infected person by using an empty Fullbottle to extract the nebula gas from them and use it to make a new Fullbottle.

Both series have a protagonist returning immediately after their shows end.

Sento Kiryu and Ryuga Banjou returned in the first episode Kamen Rider Zi-O aired next week after Kamen Rider Build ended.
Keiichiro Asaka returned in the first episode of 4 Week Continuous Special Super Sentai Strongest Battle!! aired the week immedietely after Kaitou Sentai Lupinranger VS Keisatsu Sentai Patranger ended.

Both have heroes raised by their uncle (Patren 3gou and Kamen Rider Zi-O)

The force of time isn't as prevelent, but Noël and the Lupinrangers have lost someone they loved, so they want to "reclaim their frozen time", which is their motivation/reasoning to become Lupinrangers.

Both the heroes and the Monsters of both shows use the same collectible device to use their powers with them having differences between who uses them.

Both the Lupinrangers, Patrangers and the Gangler use Lupin Collection Pieces with the only difference is that the pieces used by the Lupinranger and the Patranger are modified for human use.
Both the Riders and the Another Riders use Ridewatches with the difference being that the ones used by the Riders are high tech with the face of a Past Rider on it and the ones used for Another Riders are evil demonic looking trinkets with faces of a monstrous version of a past Rider on it.

The motif of the Monsters in both shows involve the past in some way.

All members of the Ganglers are themed after extinct animals (ex. Dinosaurs like the Tyrannosaurus Rex and extinct mammals like the Woolly Mammoth).
Another Riders are themed after past riders.

Jingi Irie appears in both of them.
The heroes from both shows have a power-up that allows them to predict their opponents moves.
Both the Lupinrangers, Patrangers and Zi-O Riders can fuse into one. (Lupin Red uses Jackpot Striker to combine Lupin Blue and Lupin Yellow into Lupin Tricolor, Patren 1gou uses GoodStriker to combine Patren 2gou and Patren 3gou into Patren Ugou, Kamen Rider Zi-O uses Zi-O Trinity Ridewatch to combine Kamen Rider Geiz and Kamen Rider Woz into Zi-O Trinity).

This is the only Sentai TV series to use "VS." title outside VS Sentai crossover films. As well as being the first VS Sentai title to have "VS." part to be pronounced as the letters, instead of the usual Japanese translation word "対/tai".
It appears that this series' team classification numbers follows a similar route as the four of two main Kamen Riders from each two first Showa era series, namely Kamen Rider (1971 - 1973 Original series) and its sequel Kamen Rider V3.

However, Lupin X/Patren X's one-off reference of both the teams being the VS Sentai creates a possibility that both the teams would be counted as one.
External links
See Also
References
Community content is available under
CC-BY-SA
unless otherwise noted.