"Full Speed, Non-Stop? What are you talking about?"
―Kaito after hearing Haruka say his original counterpart's catchphrase[src]
Kaito Goshikida (五色田 介人, Goshikida Kaito) is the administrator of the Donbrothers who acts as the master of Cafe Donbura. He can also transform into the enigmatic figure known as Zenkaizer Black (ゼンカイザーブラック, Zenkaizā Burakku).[1]
History
Kaito silently watched as Haruka Kito at Donbura somehow obtained a mysterious pair of yellow sunglasses. Later, when Kishiryuki enlarged into Kishiryuking, Kaito as Zenkaizer Black summoned JuranTyranno and let it combine with Don Momotaro's Superbike Enya Rideon into DonZenkaiOh to battle the giant monster. Once Kishiryuking was defeated, the Ryusoulger Gear fell off his body into Kaito's hand and he put it in his Zenkai Buckle.

TV STORY-Don 1: Avataro
Later, he employed Haruka as a part-time waitress at the café and started reading her manga. Kaito allowed Shinichi Saruhara to pay for his order by reciting a poem instead of money. He silently listened to the conservation between Haruka and Jin Momoi. After Resshaking was defeated, Kaito as Zenkaizer Black obtained the ToQger Avataro Gear and put it in his buckle.

TV STORY-Don 2: Big Peach, Small Peach
Kaito later granted Haruka some time off to become a deliveryman. When Kaitouki was apparently murdered by Sononi and the Lupinranger Avataro Gear appeared in front of him at the café, he commented that this was not what he was expecting.

TV STORY-Don 3: Light Thief
Personality
Unlike his original counterpart, this version of Kaito displays an aloof attitude and is generally adamant towards whatever he does when transformed, being a well established business owner. However, he does have a number of quirks, letting Shinichi leave without paying after accepting his haiku. He also still reads First Love Hero, despite the negative light that has been cast on it. He also does not recognize the catchphrase "Zenryoku Zenkai!" when Haruka shouts it in front of him. When Haruka asks him about why he can transform into Zenkaizer Black, he avoids her questions by immediately changing subject.
Zenkaizer Black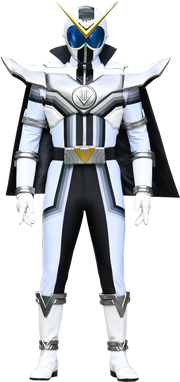 "Yon-Juu-Go Bang! Ba-Bang! Ba-Bang! Ba-Bang! Ba-Bang! Babababang! Zenkaizer!"
―Transformation announcement[src]
Powers and Abilities
Powers
Attacks
to be added
Abilities
to be added
Weaknesses
to be added
Arsenal
Mecha
Appearances: Donbrothers Episodes 1, 2, 7, 9
Behind the Scenes
Portrayal
Like the original, this version of Kaito Goshikida is portrayed by Kiita Komagine (

駒木根 葵汰

Komagine Kiita

). Like his Zenkaiger counterpart, Zenkaizer Black's suit actor is Masashi Takada (

高田 将司

Takada Masashi

) who also currently plays Kiji Brother in close up shots and motion capture. In episode 9, his suit actor is Yohei Fujita.[2]
Design
Zenkaizer Black retains much of the original Zenkaizer's white colors, but with much of the gold save for his helmet crest replaced with silver, black instead of the original suit's red, and various shades of grey replacing the other colors save for his helmet visor.
Etymology
to be added
Notes
The transformation scene is identical to the regular Zenkaizer, but with muted colors to match Zenkaizer Black's color scheme.
Appearances
References