"I'm sorry, Rangers, but we simply do not have enough information to proceed."
This article is a stub, meaning it needs more information to be a full article. You can improve this RangerWiki article by expanding it if more information is available. If you believe this article to be a dead stub, it may need to be deleted in accordance with the Style Guide.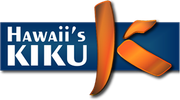 KIKU is a television broadcast network based in Honolulu, Hawaii, USA. The long running broadcast station airs shows and sporting events from Japan and Asia and various travel shows.
During its early years when it first got its callsign (formerly it was called KTRG-TV) during the mid 1960s, the station aired children's tokusatsu programs, including Kamen Rider V3

, Ultraseven, Ultraman Leo, Kikiader, Himitsu Sentai Gorenger & Battle Fever J. This was a decision made by then programming director Joanne Ninomiya, who is now the founder and CEO of the translation company JN Productions. [1]
This line up of programs made KIKU a popular station during the 1970s and a staple for the first generation of Pacific coast American tokusatsu fans. It is through that popularity that tokusatsu events at anime conventions for these shows began in Hawaii. This eventually caught the attention of the actors of the TV shows, such as Hiroshi Miyauchi and Daisuke Ban, who now make occasional visits to Hawaii and California for these conventions to sign autographs and to do interviews. [2] [3]
External Links
References
Community content is available under
CC-BY-SA
unless otherwise noted.