"It's Morphin Time! HyperForce! Yellow! Ready! Power Up!"
―Morphing call[src]
Jack Dealgoode Thomas is HyperForce Yellow.[1]
History
Jack was a "beat cop" who was asked by Senior Commander Varge to do a lecture at Time Force Academy. He was very appalled at the idea of talking to cadets about his job and wanted to find any excuse to get out of it. He witnessed a young female sneaking out of the evidence room with a box from a window and attempted to hide to observe and then tail the suspicious individual.
Receiving Zordon's call through the Morphin Grid, the six HyperForce Rangers were among those who rallied to his pocket dimension for the final stand against Lord Drakkon.

TV STORY-Mighty Morphin Power Rangers (Boom! Studios) Issue 29
Jack was later seen talking to Dustin Brooks about his Lion Hammer and how it can make earthquakes. After having his Morpher reinforced by Doctor K, Jack and his team participated in an advance towards Drakkon's Tower on the Moon in the World of the Coinless, engaging a large army of Ranger Sentries, using the Chronos HyperForce Megazord.

TV STORY-Mighty Morphin Power Rangers (Boom! Studios) Issue 30
Video game appearances
Power Rangers Legacy Wars
Jack is a playable character in Power Rangers: Legacy Wars. He uses his large-build and Ram Hammer in his attacks and taunts. He is an epic character.

Personality
RPG Bio: Time Force Officer, No Nonsense, Wise.
HyperForce Yellow
Arsenal
Zords
Appearances: Hyper Force Episodes 1-25

Morph and Roll Call
Relationships
Behind the Scenes
Portrayal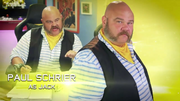 Jack is portrayed by Paul Schrier, better known for portraying Farkas "Bulk" Bulkmeier from the original Mighty Morphin Power Rangers through various succeeding series.

Concept Art
the desing of HyperForce Yellow in Power Rangers 25th Anniversary event before to introduce in Legacy Wars in october.

Notes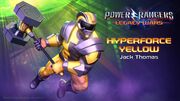 Jack shares his given name with the Red Ranger in Power Rangers SPD.
Jack is the first official Ranger in Power Rangers and Super Sentai to have a Ram motif although Melissa Fores herself claimed that HyperForce is not canon to the main Power Rangers universe.
Jack's Ram motif recalls the Ram Hammer from Power Rangers Ninja Storm.
Jack is the first large-build Yellow Ranger in Power Rangers, a trait more notable in early Super Sentai with Rangers such as Kirenger, Goggle Yellow, and Yellow Owl.
Jack's early story is similar that of Yuri from Mirai Sentai Timeranger both are police officers that attend their respective time force academies, during the course of their duties: Jack being a lecturer and Yuri becoming an undercover detective both are swept up in events that force them to become a Ranger (Ironically, Yuri's counterpart, is the mentor to the Hyper Force Rangers.)
Appearances
References