A list of merchandise for the second Super Sentai series J.A.K.Q. Dengekitai.
1970s
Figures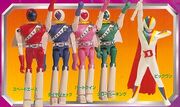 JAKQ figures - Each figure sold seperately. Spade Ace, Dia Jack, Heart Queen, and Clover King. Each came with a capsule. Big One was a statuette that was released later.

Spade Machine
Spade Machine - included Spade Ace figure.

Heart Buggy
Heart Buggy - included Heart Queen figure.

Mach Dia
Mach Dia - included Dia Jack figure.

Auto Clover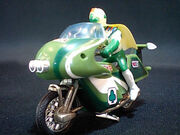 Auto Clover - included Clover King figure.

Jack Tank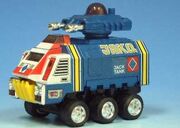 Jack Tank - Could fit figure in top, came with wheels and action features.

Spade Ace and Capsule
Spade Ace and Capsule - Spade Ace and transformation Capsule. Came with civilian figure.

External links
Community content is available under
CC-BY-SA
unless otherwise noted.