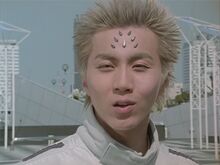 "I'm terribly sorry for destroying the town."

―Intergalactic Hitman Gigantes (as Vino's) first words after being found by the Dekarangers.
"Don't make me laugh! Can you just live on pride?! Money is good... what is justice?!"

―Gigantes after Houji said that he was able to beat him because of his pride and before taking his growth pills as well as his final words before his death.
Intergalactic Hitman Gigantes (ギガンデス, Intergalactic Hitman Gigantes 11):
History
An Alienizer from the planet Bileeza. Charged with wide-area homicide, he is an old academy buddy of Hoji's named Vino, who retired from the Space Police and reconfigured his body into a gun-for-hire, having grown disenchanted by the life of a Deka and lured into the life of a criminal by the money he is able to earn with his skills. Hired by Kajimerian Ben G to assassinate Doggie Kruger. Deleted by Dekaranger Robo's Justice Flasher after using some drugs to grow gigantic, but not before revealing DekaBase info to Rainian Agent Abrella.
Personality
to be added
Notes
Portrayal
Behind the Scenes
His home planet is named after Billy the Kid.
His name is named after Nobita Nobi (

野比 のび太

Nobi Nobita

), the main character of Doraemon series,who is rumored having great marksmanship.
Notes
Gigantes is one of the few Alienizers can enlarge himself.
References
External Links
See Also
Community content is available under
CC-BY-SA
unless otherwise noted.