"No! Let me go, please! Doggie!"
―Icthior's final words before his judgement[src]
Icthior was a member of S.P.D. on the planet of Sirius where he fought dirty against Anubis Cruger in an attempt to win the attention of Isinia Cruger.
History
Prior to the events of the series, Icthior was a great, but ruthless fighter whom attended the academy with Anubis and Isinia, having feelings for the latter. During a friendly sparring match, Icthior violently attacked Anubis, whilst expressing his desire for Isinia.
However Icthior's vicious methods only ended up destroying his relationships with both Anubis and Isinia, and he was expelled from the academy. Wanting revenge, Icthior joins forces with Broodwing in a mission to disgrace S.P.D. by taking all the Rangers' badges. He goes up against his longtime rival Doggie and catches him off guard once but is eventually taken down by the Shadow Ranger, but not before revealing to Doggie that Isinia is still alive, which is later revealed to be true.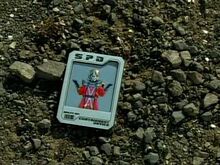 Power Rangers: Super Legends
Icthior can be seen in Power Rangers: Super Legends.
Personality
Icthior is a selfish and arrogant warrior who fights dirty and no honor.
Powers and Abilities
Powers
to be added
Abilities
to be added
Weaknesses
to be added
Arsenal
Profile
Charges
to be added
Behind the Scenes
Portrayal
to be added
Design
to be added
Etymology
Icthior's name is a play on the demographic term for ichthyoid, another word to describe fish and the like.
Notes
to be added
Appearances
to be added
See Also
References