"It's Morphin Time! HyperForce! (color designation), ready! Power Up!"
―Morphing call
The HyperForce Morpher is a 31st century prototype design created 15-16 years after the events of Time Force and is the successor to the Chrono Morpher. Unlike the Chrono Morpher, which relies only on DNA biolock imprints, the HyperForce morpher operates on a card system to activate transformation. A secondary function of these morphers, like its predecessor the Chrono Morpher, is that they use pocket dimension technology to act as a storage unit for a Ranger's weapons which can be called upon at any given moment.
Morphing sequence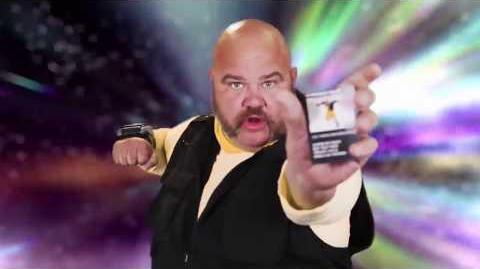 To change into a HyperForce Ranger, the user shouts the voice command "HyperForce! (color designation, ex. Red, Blue, Pink, Black, Yellow, Green)!" while holding out their transformation card, then slides it into the morpher which then glows their respective color. The user then exclaims "Ready! POWER UP!" as they hold the Morpher center to their chest. The Morpher glows brighter and materializes their helmets onto their heads from particles before assembling the suit, completing the transformation.
Community content is available under
CC-BY-SA
unless otherwise noted.