Wiki Targeted (Entertainment)
Play Sound
"You called?"
―Homurakogi's first words upon being summoned by Dokoku.
"I can still work!"
―Homurakogi when enlarged.
"Batcheed, you bastard..."
―Homurakogi's final words before death
Homurakogi (ホムラコギ, Homurakogi) is an Ayakashi armed with twin Enma Daikarin (焔摩大火輪, Enma Daikarin Flame Mount Giant Fire Wheel) for both hands, which allows him to ride like a vehicle and unleash a fire trap. He also has red eye beams.
History
He is assigned by Dokoku to aid the Gaiark President Batcheed in Samurai Sentai Shinkenger vs. Go-Onger: GinmakuBang!!. His role in Batcheed's plan was to hold Hikoma Kusakabe and BOMPER hostage.
After being slain by the Shinkengers and the Go-Ongers on his first life, he joins Batcheed as they flee to the moon, only to become a living shield by Batcheed and be subsequently destroyed by the Origami and the Engines in their Mojikara Cannonball attack as they were in hot pursuit.
Yokai Origin
According to folklore, the oboroguruma (朧車, oboroguruma) is a yokai that takes the form of an oxcart with a face. The face on Homurakogi's abdomen and his flaming wheels are thought to be the origin of this legend.
Behind the scenes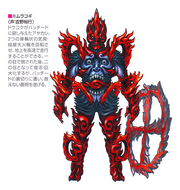 Portrayal
Homurakogi was voiced by Hiroyuki Yoshino (吉野 裕行, Yoshino Hiroyuki). His suit actor was Shinichi Kaneda (金田 進一, Kaneda Shinichi).
Notes
His name is a combination of homura (

焔,

flames

) and kogi (

漕ぎ,

rowing

).
His motif is the oboroguruma and his design incorporates flames and wheels.
See Also