""Damn You!""

―Final words before death
Herlock Sholmes (エルロック・ショルメ, Erurokku Shorume) is a fox-themed Gangler Monster and the main antagonist of Kaitou Sentai Lupinranger VS Keisatsu Sentai Patranger en Film, who disguised himself as a famous detective in pursuit of the Lupinrangers.
Phisical Appearance
True Form:
Human Form:
Character History
to be added
Powers and Abilities
Human Disguise: Like almost every Gangler, Herlock Sholmes has the ability to disguise himself as a human.
Blue Flame: Herlock can shoot blue flames from his hands.
Meteor Summoning: Due to the Meteorite Fall/Météorite osei Lupin collection piece in his safe, Herlock can summon meteors.
Darkness Spreading: Herlock, along with Wilson, can spread darkness to the whole world when they are giant.
Arsenal
Sword: Herlock Sholmes wields a sword in combat.
Profile
Height: 196 cm (Giant: 49.0 m)
Weight: 216 kg (Giant: 540.0 tons)
Criminal Record: Assaulting Lupinranger and Patranger
Lupin Collection: "Meteorite Fall/Météorite osei" Saturn model
Gangler Safe Location: Chest
Password Number: 8-1-2
Notes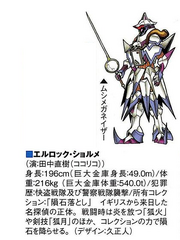 Portrayal
Herlock Sholme is portrayed by Naoki Tanaka (

田中直樹

Tanaka Naoki

). In his monster form, he was portrayed by Masato Tsutamune (

蔦宗正人

Tsutamune Masato

).
Behind the Scenes
Herlock Sholmes refers to the nemesis of Arsène Lupin in the Maurice Leblanc novels.

Sholmes himself is actually in reference to Sir Arthur Conan Doyle's famous character Sherlock Holmes; but LeBlanc was forced to change him into a new character due to several copyright issues with the Conan Doyle Estate (The name change is also an example of a "Spoonerism").
The play in the name may also be a reference to the implication that he is not the true Sherlock Holmes but rather someone posing as the famed detective.

He may be based on a fox, while his possible prehistoric theme is the: Dusicyon
Herlock Sholmes' Lupin Collection is based on the Saiko Kyutama from Uchu Sentai Kyuranger.
References
Community content is available under
CC-BY-SA
unless otherwise noted.