"Now, nothing can stop them. They'll keep fighting until your Galactabeasts are Galactatoast."
―Hardtochoke
Hardtochoke was a monster recruited by Deviot to control his captive Zords' whilst on the Terra Venture, as a means to test their power. He shot energy bolts from his hands and attacked the Rangers' Galactabeasts with the Evil Zords before they turned on him. With the Stratoforce Megazord and Centaurus Megazord back on the side of good, they attacked Hartochocke with punches and kicks before he was blasted by the Zenith Carrierzord. Afterwards, the Galaxy Megazord was able to destroy Hardtochoke with little difficulty with the Galaxy Megazord Saber.
Hardtochoke was later resurrected by Hexuba in The Lost Galaxy to exact revenge against the Galaxy Rangers (on Captain Mutiny's orders) and fought the Rangers once again on the Terra Venture. It took a combination of Leo and Maya's Quasar Launchers, Damon's Transblaster, Karone's Beta Bow, and Mike's Magna Blaster to destroy Hardtochoke.
Powers and abilities
Notes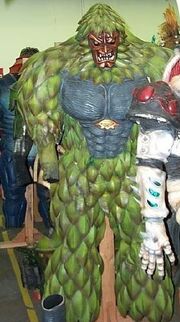 His name is a pun on artichoke, due to how his scales resembled them.
He is supposedly yeti-themed like his Sentai counterpart, but he looked more like a Bigfoot.
See Also
Community content is available under
CC-BY-SA
unless otherwise noted.