Siren Neries (セイレーンネリエス, Seirēn Neriesu) is the only female member of the Hades Beastman Four Hellish Kings. A mistress of song-based attacks who can manipulate silk cloth as a weapon, a rival/friend of Vancuria's.
Character History
When she fought Blagel in the Hades Gate, he injured her throat and thus she was unable to use her singing attacks anymore. The 3rd most powerful of the four, she used the deceased singer Rei to gather the souls for her to consume in order for her to heal her throat. But when Rei refused to help anymore, Neriesu consumed her as punishment for her betrayal, as well as to fully heal her throat. Tsubasa Ozu managed to free Rei from Neries in a similar fashion the Ozu siblings did to extract Specter from Petit Eriko before the "Beastwoman" was killed by Hikaru, Urara, Houka, Makito, and Kai's "Wonderful Shining Attack". After that, Bulrates collected Neries' powers with his BullStick and later transferred it to Zee.
When Nai & Mea read from the Book of Prophecy, Neries was listed as "The singing genocidal princess, Siren Neries".
Personality
to be added
Modus and Arsenal
Behind the Scenes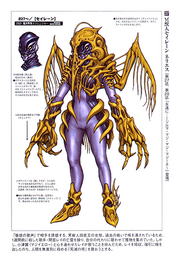 Portrayal
Notes
See also
Appearances
Community content is available under
CC-BY-SA
unless otherwise noted.