description to be added
Character History
Cockatrice (コカトリス, Kokatorisu, 4): A Hades Beast that turned people into statues which it eats at its leisure. Its wings resembled a pair of dragon heads. After it turned Urara into a statue, Kai used his sister's mirror to inspire himself in the next battle to turn the monster's attack against it. After forming a giant mirror out of the ground to reflect Cockatrice's petrification attack back at itself, Kai used his Red Fire attack and shattered the petrified Cockatrice into many stone pieces. Wolzard used his dark magic to resurrect the monster and enlarge it. This Hades Beast was the first to be killed by MagiKing. When Nai & Mea were reading from the Book of Prophecy, Cockatrice was known as "Cockatrice the feet scratcher". Was used for "Clawbster" in Power Rangers Mystic Force.
Personality
to be added
Modus and Arsenal
Notes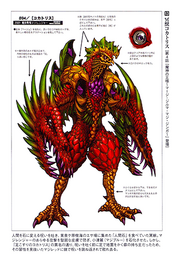 Portrayal
Behind the Scenes
Appearances
External Links
See Also
Community content is available under
CC-BY-SA
unless otherwise noted.