The Grimoire Minosaur (グリモワールマイナソー, Gurimowāru Mainasō) is a Grimoire-themed Minosaur from the Warfare Tribe Druidon, created from the negative emotions of Shotaro, based on his stress from being captured by the Druidons and unable to paint with his younger brother Kyohei.
History
to be added
Personality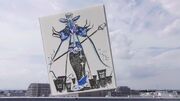 Unlike most of the other Minosaurs, this Minosaur does not have a personality on its own as it is completely inorganic.
Powers and Abilities
Powers
Drawing Creation: Anything drawn in the book will become real, including living beings.
Enlarging: The Grimoire Minosaur can enlarge itself using its host's negative energy.
Abilities
to be added
Weaknesses
Low Durability: The Grimoire Minosaur doesn't have that much durability as it was easily destroyed by KishiRyuOh Five Knights.
Arsenal
Paintbrush and Palette: The Grimoire Minosaur comes with a paintbrush and palette for Wiserue to draw into.
Summon
Minosaur Info
Minosaur Attribute: Substance Monster
Place of Distribution: Supreme Atelier
Experience Point: 209
Behind the Scenes
Portrayal
Design
Grimoire Minosaur is based on a Grimoire, a textbook of magic that contains instructions on how to perform magic spells, summon creatures, etc.
Etymology
to be added
Notes
The Grimoire Minosaur is the first monster to be completely insentient.
Appearances
to be added
See Also
References