"Keep watching...!"
―Catchphrase
The Grim Reaper Minosaur (グリム・リーパーマイナソー, Gurimu Rīpā Mainasō) is a Grim Reaper-themed Minosaur monster from the Warfare Tribe Druidon, accidentally created from Anikin, a star of AnikinTV, based on his desire for his dance collaboration video starring Kleon to be a success.
Character History
to be added
Personality
to be added
Powers and Abilities
Electron Teleportation: The Grim Reaper Minosaur can convert itself into electrons and teleport by entering the internet.
Soul Collection: The Grim Reaper Minosaur can extract the souls of people who watch Kleon's video, rendering them in a catatonic state.
Duplication: The Grim Reaper Minosaur can separate itself into multiple clones to harvest every soul.

Intangibility: After duplicating itself, the original Grim Reaper Minosaur's body becomes intangible.

Agility: The Grim Reaper Minosaur is agile enough to dodge the Ryusoulgers' sword attacks.
Arsenal
Scythe Arms: The Grim Reaper Minosaur wields a scythe chine blade on each arm for combat and its soul harvesting ability.
Weakness
Forced Assemble: After Kleon deleted his video, the Grim Reaper Minosaur was forced to reassemble itself into a solid body.
Minosaur Info
Minosaur Attribute: Undead Monster
Place of Distribution: Internet World
Experience Point: 423
Behind the Scenes
Portrayal
Notes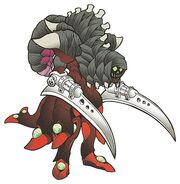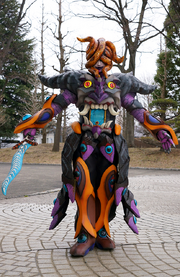 Grim Reaper Minosaur is a repainted and modified version of the Medusa Minosaur.
This Minosaur is based on the Grim Reaper, the personification of Death.
The Grim Reaper Minosaur is the first Minosaur to be created by accident.

It is also technically the first Minosaur to not be created from negative emotions, due to Anikin's satisfaction towards Kleon's video.
See Also
References
Community content is available under
CC-BY-SA
unless otherwise noted.