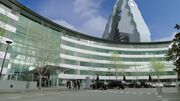 Grid Battleforce is an non-government organization created to use Morph-X as an energy source and to protect the Morphin Grid from Evox.
Members
Main Base
Beast Bots
Security
Inactive
Former
Megan - Zord Maintenance (Former), Lab Assistant (Fired)
Gallery
Special-Ops Hangar
The Special-Ops Hangar is a secret Hangar located in the woods to the west of Coral Harbor used by General Burke. He gives the Rangers, Nate and Commander Shaw access to use it for their needs.
Notes
Due to Go-Busters' heavy usage of the "GB" symbol on the show, the symbol is integrated into Beast Morphers as a reference to its Japanese counterpart.
See Also
Community content is available under
CC-BY-SA
unless otherwise noted.