"What? No! But It's my gold! My gold!"
―Green Eyes' final words before his judgment[src]
Green Eyes tries to rob the world's gold depository, but is stopped by the Power Rangers.
History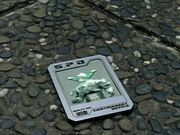 He kidnaps the guard and sends Krybots to attack the Rangers, but they stop him. In a last effort, he calls upon a giant robot, but is brought down by the Delta Squad Megazord.
Personality
to be added
Powers and Abilities
Powers
to be added
Abilities
to be added
Weaknesses
to be added
Arsenal
to be added
Profile
Charges
Trying to steal the world's gold supply
Tying up the guard against his will
Driving a robot without a license
Verdict: Guilty
Behind the Scenes
Portrayal
to be added
Design
to be added
Etymology
to be added
Notes
Appearances
to be added
See Also
References