Cobra Kai Season 4 - The Loop
Play Sound
"I'm overflowing with magnet power! Magnetee-hee-hee!"
―First words after creation
"What?! I couldn't hear, jishaku!"
―Final words before death
Great Magnet World (ダイジシャクワルド, Dai Jishaku World, 16) is a magnet-themed Great World monster of the Kikaitopia Dynasty Tojitendo created from Jishaku Tojiru Gear that contains Jishakutopia.
Character History
After the destruction of Magnet World, Great Magnet World is created and radiates the area with magnetism, prompting Twokaizer to bring out the TwokaiOh Ricky. However, the Great Magnet World used his Magnetana and activates this ability, sending the World Pirates flying away, leaving the Zenkaigers to battle the Great Magnet World instead.
However, he used the ability again to prevent it, leaving them as four Kikainoids. Despite this, they used the magnetism to their advantage, as they sent Juran flying towards the Great Magnet World as it deals the damage.
He tried to use the other ability, but he easily got destroyed by the four Kikainoids thus freeing the Jishakutopia from the Tojiru Gear.
Personality
to be added
Forms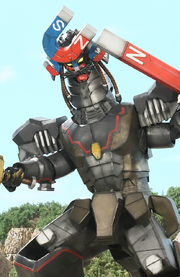 By using the Magnet Tojiru Gear, it changes into the Great Magnet World (ダイ磁石ワルド, Dai Jishaku World).
Powers and Abilities
Powers
World Creation: Upon the creation of the Great World Monster, Great Magnet World can alter the world to its own image.
Magnetic induction: Great Magnet World can manipulate magnetism and turn any metal object into a magnet.
Abilities
to be added
Weaknesses
to be added
Arsenal
Magnetana (

マグネッ刀

Maguneggatana

): It has a pair of magnet-styled swords in combat.

SS Slash: A slash that leaves the targets with opposing polarities that prevent close contact. Aside from preventing the Zenkaigers from forming ZenkaiOh, the slash was able to forcibly disengage TwokaiOh Ricky after it combined, sending the components flying far into the distance afterwards.
SN Slash: A slash that leaves the targets with attracting polarities that prevent easy separation. This move ultimately proved to be a downfall, as it draws his enemies into point blank range, allowing them to attack up close.
Behind the Scenes
Portrayal
Design
to be added
Etymology
to be added
Notes
to be added
Appearances
to be added
References