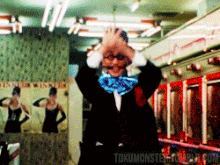 "Da da da dun! Thanks for waiting, my name is Great Famous Pachinko Player. Oh my, you're not winning at all."
―The Great Famous Pachinko Player's first words when confronting Kou.
"Stop! Spare me!"
―The Great Famous Pachinko Player reacting to Daijinryuu and his final words before his death.
The Great Famous Pachinko Player (パチンコ大名人, Pachinko Daimeijin, 37 & 38): A Gorma Minion serving under Lieutenant Colonel Shadam
History
A Gorma Minion with a playful and mischievous personality who was obsessed with Pachinko. He was also part of Shadam's plan to turn Kou into a Gorma by luring him using games. After being defeated by Kou, he used his Growth Bomb and fought Won Tiger before wiping it out and then fought RyuseiOh whilst the other Dairangers helped Kou. When Ryuseioh was easily defeated by the Gorma Minion, the other Dairangers summoned thier Mythical Chi Beasts and formed DairenOh. Although he was knocked down by three punches, he was unfazed but the alien dragon cop Daijinryuu arrived on Earth. The Great Famous Pachinko Player begged for mercy but Daijinryuu landed the this Gorma Minion was explosively crushed to death under his foot.
Notes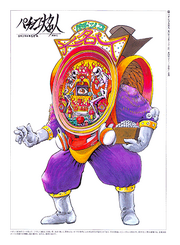 Portrayal
The actor and voice for Great Famous Pachinko Player was Shigeru Honma
See Also
References
Community content is available under
CC-BY-SA
unless otherwise noted.