description to be added
Overview
Great Evil Dragon Girad (大邪竜ギラド, Daijaryū Girado, 10-11): Girad is an incredibly agile Pterodactylus/dragon that wields a boomerang. The first time that this speed type dragon appeared, it was manned by three Jaryuu, and both Zard and Girad managed to defeat DaiBouken. The second time in Task 11, Gajah personally piloted Girad. However, Super DaiBouken "Wall Shot" Girad's feet to the ground with Hyper Concrete (in order to squander Gajah's ambush attempt, the steering wheel was immobilized as a consequence) and terminated Girad himself, almost claiming Gajah's life.
History
Notes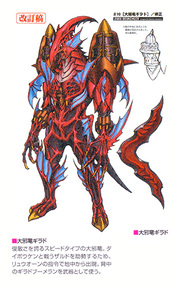 See Also
References
Community content is available under
CC-BY-SA
unless otherwise noted.