Boba Fett Returns - The Loop
Play Sound
"I'm overflowing with bull-fighting power!"
―Great Bullfighting World's first words.
"Shine on, you summer matadors!"
―Great Bullfighting World's final words before his death.
Great Bullfighting World (ダイトウギュウワルド, Dai Tougyuu Warudo, 22) is a bullfighting-themed Great World from the Kikaitopia Dynasty Tojitendo who was created from the Tougyuu Tojiru Gear that contained Tougyuutopia.
Character History
After the destruction of Bullfighting World, Great Bullfighting World is created and a bunch of giant barbecue grills began to spread throughout the city and each one has a smoke hood hovering over the grill thus prompting Super Zenkaizer and Super Twokaizer to bring out ZenKaijuOh to battle it.
However, their feet began to hurt due to this hot grils, but Bullfighting World is not as it is used to the heat. During the fight, he fires a beef tongue to wrap around the ZenKaijuOh, but Zocks separates himself from the dino mecha as he began eating it. Then, they tried to open fire at the Great Bullfighting World with Kaiju Max Blaster, but all of their ammo were sucked up into the smoke hood.
In retaliation, they transformed into Zenkaiju Drill as they began to plow through every smoke hood in the city and destroying the Great Bullfighting World, thus freeing the Tougyuutopia from the Tojiru Gear.
Personality
to be added
Forms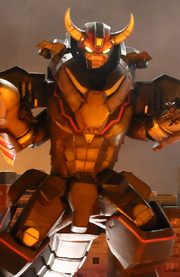 By using the Bullfighting Tojiru Gear, it changes into Great Bullfighting World (ダイトウギュウワルド, Dai Tougyuu Warudo).
Powers and Abilities
Powers
World Creation: Upon the creation of the Great World Monster, Great Bullfighting World can alter the world to his own image.
Beef Tongue: It is able shoot beef tongue-like whips from its chest to wrap his opponents.
Abilities
Heat Immunity: Great Bullfighting World was not fazed by the heat released from the world he altered and created.
Weaknesses
to be added
Arsenal
Horn Gauntlets: It wields Horn Gauntlets in combat.
Smoke Hoods: It can use some smoke hoods in his world to absorb the opponents' attacks.
Behind the Scenes
Portrayal
Design
to be added
Etymology
to be added
Notes
Great Bullfighting World's final words are a reference to Hikaru Genji's song Lila no Saku koro Barcelona (

リラの咲くころバルセロナへ

).
Appearances
to be added
References