Goro Sakurai (桜井 五郎, Sakurai Gorō) is Spade Ace (スペードエース, Supēdo Ēsu) and the original leader and later second-in-command of J.A.K.Q. He is a Japanese pentathlon athlete and Olympic Gold Medalist. He was 24 years old when he joined J.A.K.Q.[1]
History
J.A.K.Q.
In addition to being a champion in karate, archery and judo, he was also a skilled equestrian and all around top athlete. He originally turned down Joker's offer to join JAKQ, but later had a change of heart when he save Karen Mizuki.

TV STORY-Ep. 1: 4 Cards!! The Trump is J.A.K.Q.
Imitations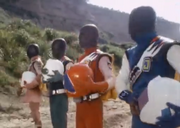 A Crimer posed as Spade Ace as part of a Dummy JAKQ team, who sparred with Devil Scrap's Scrap Gundan.

TV STORY-Ep. 22: Big Red Counterattack!! Attack the Suicide Bomber Army

J.A.K.Q. Dengekitai vs. Gorenger
To be added.

TV STORY-J.A.K.Q. Dengekitai vs. Gorenger
Sun Vulcan
In a Sun Vulcan Issue, Spade Ace and the other 4 red warriors were shown.
Gaoranger vs. Super Sentai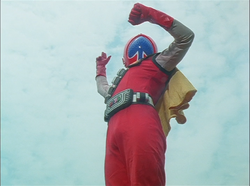 Spade Ace is among the Sentai warriors seen in clips when Daimon Tatsumi (GoYellow) lectured Kai Samezu (GaoBlue) about the past Sentai technical warriors and their fighting spirit.
Led by his Liveman successor Red Falcon, he appeared as one of 24 previous Red Rangers in Gaoranger vs. Super Sentai together with fellow Red Rangers from his predecessor Akarenger to his successors from Battle Japan to TimeRed. He had no interactions with his former teammate Sokichi Banba, who also appeared, but as the leader of the Dream Sentai instead.

TV STORY-Hyakujuu Sentai Gaoranger vs. Super Sentai
Red Spirit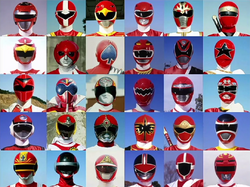 As the second Red, Spade Ace's Red Warrior Spirit was embodied by AkaRed.

TV STORY-GoGo Sentai Boukenger vs. Super Sentai
Gokaiger
Legend War
Years later, Gorou fought alongside not only his own team, but every single Sentai Ranger in existence, against the Empire of Zangyack when it attacked the Earth in the Great Legend War. After fighting against hundreds of Gormin and their Zgormin commanders. Akarenger noticed the fleet moving towards them, he gathered all the Rangers together and gave them the order to sacrifice their powers to wipe out the first invasion's armada. The Spade Ace powers are later used by Captain Marvelous via the Ranger Keys.

TV STORY-Ep. 1: The Space Pirates Appear

TV STORY-Gokaiger Goseiger Super Sentai 199 Hero Great Battle
Farewell Space Pirates
After the Zangyack's final defeat, Marvelous returned the Ranger Keys to their original owners. It is assumed Sakurai and his teammates have their powers once again.

TV STORY-Final Ep.: Farewell Space Pirates
Super Hero Taisen
Goro, alongside his team, among the majority of the Super Sentai heroes, was caught up in the "Super Hero Taisen" incident which eventually resulted in the Super Sentai teams and Kamen Riders joining forces to defeat both Dai-Zangyack and Dai-Shocker. During the final battle, he is seen in the background fighting Furious Demon God Gai.

TV STORY-Kamen Rider × Super Sentai: Super Hero Taisen

Zyuohger vs. Ninninger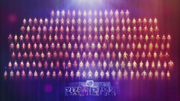 Spade Ace appeared as part of a conference of the first 38 Reds led by Red Falcon, whom addressed the Ninningers and Zyuohgers as the greater Super Sentai pantheon intervened to save them from defeat at the hands of the titanic Gillmarda. Empowering the Combination Nin Shuriken to form Wild Tousai Shuriken King, the first 38 Super Sentai further imbued their successors with the power to perform the Zyuoh Ninnin Super Sentai Burst, destroying Gillmarda with the combined power of all 40 Super Sentai.

TV STORY-Doubutsu Sentai Zyuohger vs. Ninninger: Message from the Future from Super Sentai
Super Sentai Strongest Battle
Goro joined the Super Sentai Strongest Battle as a member of Sports Team. It's unknown whether he participated in any of the matches, but his team lost the competition either in the first round against the Animal Lover Team offscreen or won against them and lost in the second round against Leader Team offscreen.
Kikai Sentai Zenkaiger The Movie: Red Battle! All Sentai Rally!!
Goro alongside with Tsuyoshi Kaijo and his Sentai Red Ranger successors appeared to help the Zenkaigers.

MOVIE STORY-Kikai Sentai Zenkaiger The Movie: Red Battle! All Sentai Rally!!
Though he was seemingly erased alongside his team as a result of Asmodeus' manipulations, he and, presumably, his corresponding team were restored back into existence once Touma Kamiyama had helped Shotaro regained his passion in drawing out the superheroes that he wants to draw out.
During the climatic final battle itself, he can be seen fighting alongside Akarenger, Red Buster, Zenkaizer and Twokaizer.
Chou Super Hero Taisen
To be added.
Personality
Gorou is a born leader and uses his abilities to seek out the weak points of his enemies. He had a romantic involvement with Karen towards the end of the series.
Spade Ace
As Spade Ace, Goro's cybernetic bionic enhancements allowed him to manipulate Atomic Energy in a variety of ways:
Accelerator Switch (

加速装置

Kasoku Sōchi

): Allows Spade Ace to move at high speeds.
Neutron Scope (

中性子スコープ

Chūseishi Sukōpu

): Allows Spade Ace to see through walls.
Remote Sound Recorder (

遠隔集音装置

Enkaku Shūon Sōchi

): Allows him to detect sounds from far away.
Enhancing the impact of his blows
Spade Ace also wields a number of specially designed weapons, chief among which is his "Spade Arts" power bow. Spade Ace can shoot atomic arrows which can puncture most materials. The Spade Arts bow can also be converted into a whip which can bind an opponent.
Powers and Abilities
Powers
to be added
Attacks
to be added
Abilities
to be added
Weaknesses
to be added
Arsenal
Mecha
Behind the Scenes
Portrayal
Design
Spade Ace wears a red cloth suit with white arms and a sash that possesses several holsters within it with a bronze-colored medal around the right side with the letter "A", representing "Ace". His gloves are red while his boots are white in color. A silver belt with more holsters surround his body with the buckle for J.A.K.Q. in the center; while with a small yellow cape around his back. His helmet possesses a blue Spade representing his card suite, but unlike his teammates his helmet is completely red outside the Spade. Above the Spade is the letter "A".
Spade Ace has one leitmotif, entitled "Spade Ace Wakai Shishi".
Spade Ace is featured as #53 in the 1986 archive compilation video Toei 100 Great Heroes Super Fight.
Etymology
to be added
Legend Sentai Devices
Notes
He is the only Red Ranger in the entire series to start as a leader and later become a non-leader.
Goro is the only member of J.A.K.Q. who does not possess a white helmet.
Due to his team starting with an even number and his stepping down as leader, Goro is the only Sentai Red Ranger to have never been the center of his team formation.
Goro is the only Red Ranger from the first 15 Sentai who never had Kazuo Nibori as a suit actor (his main suit actor was Jun'ichi Haruta).
In the Ishinomori Hero File book, it was revealed that during the concept planning stages Spade Ace was originally intended to be the Blue Ranger.[2]
Appearances
See Also
External links
References