description to be added
Character History
Golem
(ゴーレム, Gōremu, 43):
Santa Claus
was in possession of this Precious. It was made from clay and other earthen materials that acts like a modern day robot, basically doing as told. Normally it's a small doll, but when the control plate "Shem" is placed on its forehead it grows and starts to move. The plate acts as a controller and when the first letter of its inscription ("Emet," or "truth" in Hebrew) is erased and reads "Met" or "Meit" ("death" in Hebrew), the Golem is deactivated.
It was stolen from Santa Claus by Arch Priest Gajah and used against the Boukengers. They destroyed it with DaiVoyager Drill & Shovel.
Personality
to be added
Modus and Arsenal
Notes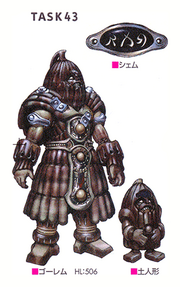 Portrayal
Behind the Scenes
See Also
References
Community content is available under
CC-BY-SA
unless otherwise noted.