Would it not be wise to be more specific in your quest for knowledge?
This is a disambiguation page, which is not an article, but rather a list of articles with similar names. If a link within RangerWiki or the Tokupedia Hub brought you here, please consider editing that link to point to the specific article that it references.
The Gold Zeo Ranger can refer to:
Gold Zeo Ranger
Zords
Arsenal
Appearances: Zeo Episodes 27, 28, 30-44, 46-50, PRIS Episodes 42, 43, SM episodes 20 & LBEV

Legendary Ranger Devices

The Gold Zeo Ranger Key is Trey's personal Ranger Key. This key along with the other 14 Official Sixth Ranger Keys are seen lining the Command Center's interior walls. This key is mainly used by Orion (Super Megaforce Silver) who uses it to fight as the Gold Zeo Ranger.

The Gold Zeo Ranger is one of the Rangers that represent the Zeo Rangers for the Zeo Dino Charger, released as part of a special set of Dino Charger Power Packs. In Zeo's case, it featured Zeo Ranger V Red, the Gold Zeo Ranger, the Zeo Megazord, and the Zeo title. This Charger was paired with the Operation Overdrive Dino Charger.
Red herrings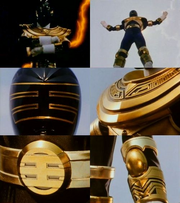 Before Trey's reveal as the Gold Ranger, three red herrings were used. Former Blue Ranger Billy Cranston was the prime suspect, Tommy's brother David Trueheart, and finally Skull.

Appearances
See Also