This article is about a/an series entry (the 30th) in the Super Sentai series.
GoGo Sentai Boukenger (轟轟戦隊ボウケンジャー, GōGō Sentai Bōkenjā), or GoGo Sentai Bokenger[1], translated as Rumbling Squadron Adventure Ranger) is the 30th entry in the Super Sentai series. It replaced Mahou Sentai Magiranger and joined Kamen Rider Kabuto
as part of the Super Hero Time block on TV Asahi. On January 28, 2007, it was joined by Kamen Rider Den-O
, one week after Kabutos finale. On February 18, 2007 it was replaced by Juken Sentai Gekiranger.
Footage from Boukenger was used for the American adaptation Power Rangers Operation Overdrive, and it was dubbed in South Korea as Power Rangers Treasure Force (파워레인저 트레저포스 Pawoleinjeo Teulejeoposeu).
The average ratings of the series was 6.7%.[2]
Plot
"In every era, there are explorers that seek unknown worlds. People call them "adventurers". SGS foundation is a non-government organization that gathers lost treasures from around the world. Treasures such as relics from ancient civilizations, the treasures left behind by people, as well as animals near extinction. Among them are treasures that possess powers surpassing current technology called Precious. SGS is a secret team that finds and protects the Precious!"
―Narrator[src]
Powerful relics known as Precious have started to appear throughout the world. However, the various Negative Syndicates wish to take the Precious for themselves and utilize them for evil means. To make sure that the Precious don't fall into the hands of the Negative Syndicates the Search Guard Successor Foundation, or SGS, has developed its own special operations team, the Boukengers, who do battle and collect the dangerous Precious.
Characters
Boukengers
Extra Heroes
Veteran Sentai Team
SGS Members
Allies
Pretty Cure (GoGo Sentai Boukenger/Futari wa Pretty Cure Splash Star Audio Drama)
Negative Syndicate is a term SGS uses to label various groups or individuals who seek Precious for nefarious ends. It is their official moniker for villains.
Other Villains
Precious
Arsenal
Transformation Devices
Sidearms
Individual Weapons
Power-Up
Mecha
GoGo Vehicle System
Legend:◆ piloted mecha, ❖ aux mecha
SirenBuilder System
Legend:◆ piloted mecha, ❖ aux mecha
Voyager System
Legend:◆ piloted mecha, ❖ aux mecha, ● other
Episodes
The episodes this season are called "Tasks" (Task., Tasuku) (the title for which is written as "Task. [number]" except for the finale) and uses the English pronunciations of the episode numbers. Many of these titles are tied to an artifact or item which is the focus of the episode.
Like Seijuu Sentai Gingaman, many of the Boukenger titles are two words that are connected, either two nouns with the character "no" connecting the two or a word in front of a main noun (the second noun) that modifies it. Like Tokusou Sentai Dekaranger, the titles incorporate a period.
Movies
GoGo Sentai Boukenger The Movie: The Greatest Precious (

轟轟戦隊ボウケンジャーTHE MOVIE 最強のプレシャス

GōGō Sentai Bōkenjā Za Mūvī: Saikyō no Pureshasu

)
GoGo Sentai Boukenger vs. Super Sentai (

轟轟戦隊ボウケンジャーVSスーパー戦隊

GōGō Sentai Bōkenjā Basusu Sūpā Sentai

)
Juken Sentai Gekiranger vs. Boukenger (

獣拳戦隊ゲキレンジャーVSボウケンジャー

Jūken Sentai Gekirenjā tai Bōkenjā

)
Cast
Guest voice actors
Suit Actors
Stage Shows
Songs
Opening theme
Ending theme
Mecha themes
Insert themes
Character songs
Toyline
Notes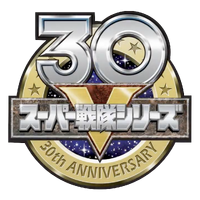 Boukenger is the first Sentai season to:
Satoru's actor, Mitsuomi Takahashi, made an appearance on the 20th Sasuke Tournament, but was eliminated in the first round.
Boukenger gets its name from the word "bouken", meaning "adventure".
Due to this being an anniversary series, all the villains and monster designs were based (sometimes very loosely) on mecha from past Sentai season.
This is so far the last season for which Yasuko Kobayashi served as a secondary writer. All of her subsequent writing credits for the franchise would be done in the capacity of the involved season's head writer.
Official websites
References